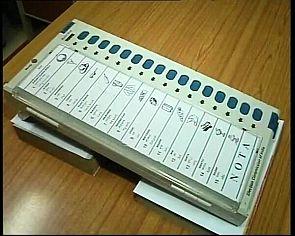 For the first time, the Election Commission will provide 'None Of The Above' option button in EVMs for the 11 crore voters who will exercise their franchise in the five states going to polls beginning next month.
Announcing the schedule for assembly elections in Delhi, Mizoram, Rajasthan, Chhattisgarh, Madhya Pradesh and Rajasthan, Chief Election Commissioner V S Sampath on Friday said that the Election Commission is taking necessary steps to make available the 'None Of The Above' option for voters in the electronic voting machines.
"The Election Commission is working out details and steps for introduction of NOTA option in these polls itself," Sampath told a press conference.
Till now, this option is not available to voters on ballot papers and EVMs. Voters so far had to register their option of NOTA in a register under Rule 49-O of the Conduct of Election Rules, thus compromising secrecy.

In its September 27 judgement, the Supreme Court had directed the EC to provide NOTA option on ballot papers and EVMs.
The Apex court had said that the EC should implement it either in a phased manner or at a time in assistance with the central government.
Below the name of the last candidate on the EVM, EC will now provide a button for NOTA option for electors who do not wish to vote for any of the candidates in the fray in their constituency.
"The Commission is taking steps to bring this to the knowledge of voters and all other stakeholders and to train all field level officials, including polling personnel about the NOTA option," Sampath said.

Former CEC S Y Quraishi had recently written an article about the NOTA option saying that such votes will be counted as "no votes" and would not affect the result of the poll.