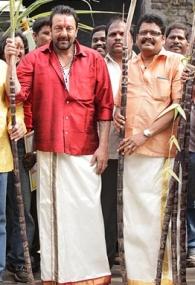 Maharashtra Chief Minister Prithviraj Chavan on Wednesday defended the extension of the parole of actor Sanjay Dutt, who was convicted in the 1993 Bombay serial blasts case, saying the action was taken as per law and no rules were violated.
"Decisions are taken as per the law, without violating any provisions. Decisions are taken at the appropriate level. There is nothing political in it, no rules were violated," the chief minister said.
The parole to Dutt, 53, who was convicted under the Arms Act for illegal possession of weapons, was on Tuesday extended by another month by Pune district authorities to enable him to attend to his ailing wife Manyata, who recently underwent a surgical procedure.
He was supposed to return to Yerawada Jail on February 21 to serve the remainder of his five year sentence.
The actor was granted a month-long parole on December 6 last year, which was extended by another 30 days in January on account of his wife's illness. Before that, he was on a month-long leave of furlough on medical grounds.
Dutt's release on parole in December had sparked protests outside Yerawada jail, forcing the government to order an inquiry.
His prolonged stay out of prison has triggered a controversy, with a PIL being filed on Tuesday in the Bombay high court challenging the extension of his parole.
The PIL, accusing the superintendent of Yerawada jail and Pune divisional commissioner of abusing their powers, has been posted for hearing on February 25.