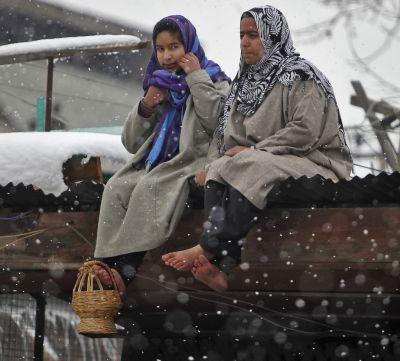 Three persons died due to severe cold in north India where icy winds swept through most parts and mercury plummeted by several notches.
Delhiites also witnessed a cold and chilly day with the mercury settling at 5 degree Celsius, two notches below normal and the maximum temperature also showed a similar trend settling at 20.4 degrees Celcius.
Three persons died due to severe cold in Uttar Pradesh, including two in Ghazipur district and one in Barabanki district, as night temperatures fell in different parts of the state, MeT officials said.
The Srinagar-Jammu national highway, all-weather road connecting Kashmir with rest of the country, was opened on Friday for traffic after remaining closed for two days even as intermittent snowfall continued for the third day.
Meanwhile, the ongoing cold wave intensified in Punjab, Haryana and Chandigarh with mercury plummeting to up to four notches even as a thick fog blanket continued to play havoc with normal life in the region.
Cold conditions further gripped Rajasthan as the night temperature plummeted one to five degrees at most places in the state and icy winds swept the region.
Due to fog and mist in neighbouring states of Madhya Pradesh, Punjab, Haryana, Uttar Pradesh, departure of Ajmer- Jabalpur Express train was rescheduled, while eleven other trains were running late from 25 minutes to about ten hours, a NWR spokesperson said.
Himachal Pradesh also remained under the grip of cold wave with icy winds lashing the low areas and mercury dipped by few notches hovering around sub-zero temperatures in some parts of the state.
According to the MET department, Nazibabad was the coldest in Uttar Pradesh at 0.5 degree Celsius while Lucknow recorded a minimum temperature of 5.2 degrees Celsius, two degrees below normal.
In Himachal Pradesh, the sky was heavily overcast in Shimla and surrounding areas received light snowfall, while the weather remained mainly dry in rest of the state.
The higher reaches and tribal areas shivered as mercury dropped by few notches after mild snowfall with Bharmaur in tribal areas of Chamba recorded a low of minus 13.1 degrees Celsius, Keylong and Kalpa in Lahaul and Spiti and Kinnaur also remained at sub-zero temperatures.
Lakes, springs, rivulets and tributaries were frozen in the region, causing sharp fall in discharge of water in snow-fed rivers of Ravi, Beas and Sutlej in the state.
Rajasthan's sole hill station Mount Abu was the coldest place in the state at 0.6 degree Celsius. While Sriganganagar recorded a minimum temperature of 2 degrees C, followed by Churu 3.2 degree Celsius, Jaipur at 6 degree Celsius and Jodhpur at 9.7 degree Celsius.
The minimum temperatures in most parts of Punjab and Haryana hovered between one to four degrees Celsius below normal, the MeT office here said.
In the plains of Punjab and Haryana, Amritsar was the coldest with a low of 0.4 degree Celsius, which was three notches below normal.
The minimum temperature at Hisar was 0.7 degree Celsius, four notches below normal, while Narnaul reeled under a low of 2.1 degrees Celsius, three notches below normal.
The most effected parts of Punjab and Haryana due to dense fog included Amritsar, Ambala, Karnal, Hisar, Bhiwani, Ludhiana and Patiala, the MeT office said.
The arterial roads in Jammu and Kashmir also remained closed on Wednesday due to snowfall across the Valley which continued intermittently till this afternoon, leading to an increase in minimum temperatures in most parts.
Srinagar recorded a low of minus 0.7 degree Celsius, over one degree up as compared to the previous night's low of minus 1.9 degrees C, a MET Department official said.
Leh, in the frontier region of Ladakh, was the coldest recorded place in the state with a low of minus 17.2 degrees C while the famous ski resort of Gulmarg registered a low of minus 10.8 degrees C last night.
Pahalgam hill resort in south Kashmir recorded a low of minus 6.8 degrees C and Kargil, also in Ladakh, registered a minimum of minus 8.6 degrees Celsius against minus 9.2 degrees Celsius the previous night.
Image: A Kashmiri girl warms her feet using "Kangri" as she sits with a woman on a rooftop on a cold day in Srinagar
Photograph: Danish Siddique/Reuters