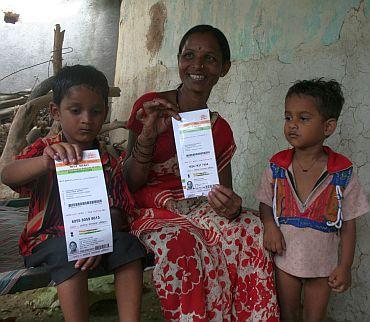 347688003622 is the Unique ID number of Raju Makkan Madi of Tembhali village, one of the first recepients of the government's most ambitious schemes. The 33-year old Madi is a labourer who earns Rs 75 a day.
Raju, who has completed his class XII, in the Marathi medium told rediff.com, "It's (UID card) is like a national identity card through which the entire country will know that I am Raju Makkan Madi. There will be no duplication of my identity." 
Now whenever Raju has to recieve money for his NREGA work, the bank officials will match his fingerprint with that on the UID card. "In this way, no one else can reap the fruits of my labour," says a visibly-excited Raju.

10 residents of Tembhali, including three children were given their UID cards Sonia Gandhi. As soon as the dignitaries left Tembhali, officials were swamped by the villagers. They said that 1305 were issued to the residents of Tembhali, which has a population of 1,500 people. The remaining 195 people would have to wait for their cards to arrive by mail.

782474317884 is a number that will remain Rajana Sonawane's identity proof throughout her life as she became India's first Unique ID card holder on Wednesday."I thank Soniaji for selecting me to be India's first Aadhaar card recipient," a beaming Rajana told PTI after receiving the card at the UID rollout function in Tembhali. "Aadhaar card is the aadhar (support) of my life... Wherever I go it will come in handy," she said.
"The card will be useful at the ration shop and for getting employment," Rajana said flaunting the card which has the slogan 'Aadhaar-common man's right'. Among the card recipients were 4-year-old Hitesh Sonawane and eight-year-old Anil Thakre.
The ten persons who recieved their cards from Sonia Gandhi and Manmohan Singh were:  Ranjana Sonawane, Pritesh Sonawane, Amit Thakre, Jalubai Thakre, Shiva Ratan Wagh, Kantibai Nigude, Devidas Mali, Bhuri Mali Tarachand Padvi and Armaan Qureshi. 

Image: UID recepient Ranjana Sadashiv Sonawane with her son Hitesh

Photograph: Uttam Ghosh

With PTI inputs
 Also read:
Tembhali Live: 'Our dreams will never be realised'