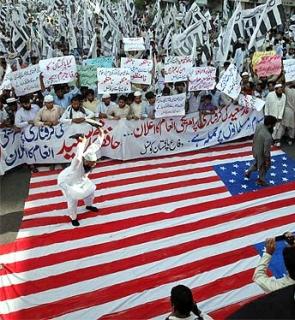 A judicial team from Pakistan is scheduled to visit India on September 4 to continue Islamabad's probe into the 26/11 terror strike.
Incidentally, a Pakistani court had rejected the findings of the judicial team that had visited India earlier, as it had not been allowed to cross-examine witnesses of the terror strike.
This time, Indian authorities have decided to allow the Pakistan panel to cross-examine four people in connection with the 26/11 case. India is allowing as much access as possible to the Pakistani panel as it wants Islamabad to take action against Mumbai attack mastermind Hafiz Saeed, who had dared both nations to set up a judicial committee to probe whether he is a terrorist.
The panel is set to question Rama Vijay Sawant, the metropolitan magistrate who had recorded the statement of Ajmal Kasab, the only terrorist arrested alive during the siege.
During his deposition, Kasab had divulged details of the operation and elaborated on Saeed's role in planning the strike.
An official of the National Investigation Agency shared with Rediff.com the following transcript of Kasab's statement:
"The first time I met Hafiz Saeed was during a 21-day training programme in December 2007. Saeed told all of us that we had to fight to free Kashmir. He selected the core team and gave us the names we would use during the operation.
After that, we met Saeed during the marine training programme. He announced that the time for jihad had finally arrived. He gave us detailed instructions and even offered a motivational speech".
NIA officials believe that Kasab's statement should provide enough evidence to Pakistani authorities to go after Saeed.
Islamabad has often claimed that Saeed, who is a free man in spite of being declared a terrorist by India and the United States, cannot be prosecuted as there is not sufficient evidence against him.
The panel will also question Ramesh Mahale, chief investigating officer of the 26/11 case, and two doctors from JJ hospital.
To fend off possible allegations of interference, Indian officials will allow the Pakistani panel to conduct the cross-examinations independently.
If the visit by the Pakistani judicial commission goes smoothly, India may push for the setting up of a joint judicial commission, when Prime Minister Manmohan Singh meets his Pakistani counterpart Nawaz Sharif at the sidelines of the United Nations General Assembly in New York in September.
The 26/11 trial has been dragging on for years in a Pakistani court, which adjourns the trial at any and every pretext.
India is hopeful that after the completion of the judicial panel's visit, Pakistan will prosecute Hafiz Saeed with the new-found concrete evidence and also hasten the 26/11 trial.
Image: A protest against the United States by supporters of Hafiz Saeed ' Photograph: Reuters