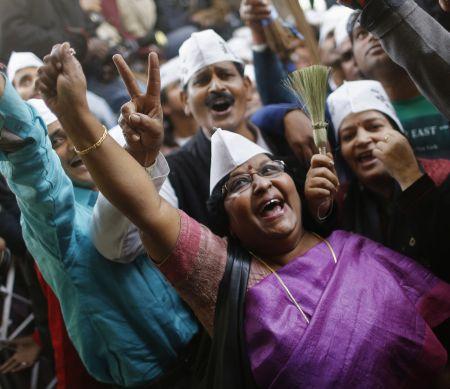 The Congress on Wednesday made it clear that there is no going back on the issue of its support to the Aam Aadmi Party for government formation, saying it was giving its backing to the newbie's manifesto.
"We are supporting the manifesto of the AAP at least in the coming time or whatever we have committed to the Lieutenant Governor. The party will stand by it," Congress spokesperson Sandeep Dikshit told reporters in New Delhi.
"Janardan Dwivedi (Congress General Secretary) made it very clear last night that there is no rethink," he said while admitting that there was a difference of opinion within the party over supporting the AAP.
"There is angst among a section of party workers over lending support to AAP. Lot of our workers and leaders have been feeling that we need not support especially after the string of abuses that AAP leaders made in public," Dikshit said.
On Sheila Dikshit's remark that the support is conditional and the Congress may withdraw it backing, the MP said the Delhi Congress president has also stated that the support is only to the AAP manifesto. He adopted a "first wait and see" approach on the manifesto, the promises made by the AAP to "create a heaven in Delhi in three months....
"Because please remember we are also the opposition and it is the role of the opposition to be an opposition. I am very clear that the role of opposition is to oppose and see that one does what the government is supposed to do and has promised to do. And we will play that role to the best of our ability," Dikshit said.
To question on 'mud slinging and lack of trust' between the Congress and AAP, he said, "We oppose each other. The AAP is like making all kinds of allegation against the Congress. You can't expect there being a sense of trust and that is why our Delhi Congress chief has clarified that it's not the AAP we are supporting, but its their manifesto and whatever promises they have made."
"Let's give them time. Give them a chance. They have asked for two to three months time to do almost everything they have spoken about," Dikshit said.

Image: Supporters of the Aam Aadmi Party in New Delhi

Photograph: Reuters