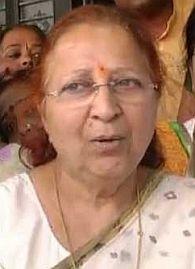 Lok Sabha Speaker Sumitra Mahajan on Saturday steered clear of the issue of grant of Leader of Opposition status in the House to the Congress despite the party appearing to raise the pitch for it.
"The meeting of leaders of political parties was convened to discuss the business of the House," was the refrain of the Speaker after the luncheon meeting to repeated questions on what was her decision on the issue.
The Speaker had earlier said she will take a decision on the issue before the budget session after consulting constitutional experts and "experienced" persons.
Leader of the Congress in Lok Sabha Mallikarjun Kharge merely said that Saturday's meeting was to discuss the issue to be raised during budget session.
Significantly, a Union Minister remarked that how could the Speaker decide on the matter when the Congress is yet to formally seek the status.
He said people have not granted the numbers to the Congress to get that status and said the rules have been framed in 1977 and would be followed. He also cited the example of 1984 when the TDP was not accorded the status.
Asked whether Congress would write to the Speaker on the issue, party spokesperson Randeep Surjewala had said the decision will be taken by party leaders in both the Houses after consultations with Congress President Sonia Gandhi and party Vice President Rahul Gandhi.
Kharge had earlier met the Speaker along with a UPA delegation but had later said it was a mere courtesy call and the issue did not figure in the meeting. The Congress did not raise the issue during the luncheon meeting today also.
While Congress has secured 44 seats in the 543-member Lok Sabha, government managers have said it was less than the requisite strength of 10 per cent of the House's total strength to make the party eligible to get the post.
On Friday, Congress appeared to have decided to raise the pitch in its demand for being accorded the status for its nominee in the Lok Sabha making it clear that the Speaker has no arbitrary powers.
Insisting that the powers of the Speaker are "neither arbitrary, nor unbridled or unilateral" on deciding the issue, Congress spokesman Randeep Surjewala said the post of the Leader of the Opposition is a "constitutional right" of Congress as the biggest party in the opposition as also the biggest pre-poll alliance.
Image: Lok Sabha Speaker Sumitra Mahajan