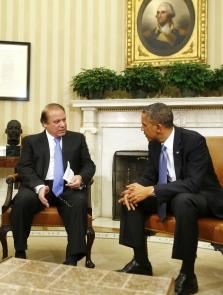 Condemning terrorism in all its forms and manifestations, US President Barack Obama and Pakistan Prime Minister Nawaz Sharif on Thursday said that no country's territory should be used to destabilise its neighbours.
During their maiden meeting at the White House, the two leaders discussed a host of issues, in which violent extremism and terrorism figured prominently.
"The two leaders emphasised that no country's territory should be used to destabilise its neighbours. Further, the leaders noted that extremism and terrorism represent a common challenge for humanity and that the solution lies in collaboration and joint efforts by the international community," a joint statement issued after the meeting, said.
Obama, however, made no commitment to Sharif's wish of ending drone strikes in Pakistan, that figured in the context of overall security and war against terrorism in the region.
"We talked about security and the concerns that both of us have about senseless violence, terrorism and extremism. And we agreed that we need to continue to find constructive ways to partner together; ways that respect Pakistan's sovereignty, that respect the concerns of both countries," Obama said in his brief remarks to the press.
Optimistic that the two countries can continue to make important strides in moving forward, Obama said he knows that Sharif "is very much committed to trying to reduce these incidents of terrorism inside of Pakistan's borders, and the degree to which these activities may be exported to other countries".
In his remarks Sharif said terrorism constitutes a common threat to both India and Pakistan.
"Obama thanked Sharif for Pakistan's efforts to help defeat al Qaeda, and both leaders expressed their deep appreciation for the sacrifices of military personnel and civilians in the fight against terrorism and extremism," the statement said.
At the same time Obama acknowledged that this is not easy.
"It is a challenge," he said. Sharif shared his perspective on effective counterterrorism cooperation to achieve the mutual objective of defeating terrorism.
Emphasising that nuclear terrorism is one of the most challenging threats to international security, Obama and Sharif, according to the joint statement, acknowledged the importance of regional balance and stability in South Asia and pursuing increased transparency and uninterrupted dialogue in support of peaceful resolutions of all outstanding issues.
"Sharif affirmed Pakistan's support for the universal objectives of non-proliferation and disarmament," the joint statement said adding that the two Leaders underscored that all sides should continuously act with maximum restraint and work jointly toward strengthening strategic stability in South Asia.
"Sharif expressed Pakistan's desire to join the multilateral export regimes.
Obama reiterated his confidence in Pakistan's commitment and dedication to nuclear security and recognised that Pakistan is fully engaged with the international community on nuclear safety and security issues," it said.
"The two leaders welcomed progress on the Turkmenistan-Afghanistan-Pakistan-India pipeline project, and tasked the Energy Working Group to explore possible further US," it said.
With the scheduled drawdown of US troops from Afghanistan by the end of 2014, the two leaders also pledged to work for a peaceful, stable, independent and united Afghanistan.
The joint statement emphasised their support for a policy of non-interference in Afghanistan.
"The prime minister and I both agreed that it is in America and Pakistan's interests for Afghanistan to be stable and secure, its sovereignty respected," Obama told reporters in a joint media appearance with Sharif.
"Afghanistan is fully responsible for its own security, and I pledged to fully brief the prime minister and his government as we make progress in not only Afghan elections, but also a long-term strategy for stability in the region," he said.
Sharif on the issue said, "Let there be no doubt about our commitment for a peaceful and stable Afghanistan. This result remains unbending. As in the past, we will continue to engage the United States of America in building a united, peaceful and stable Afghanistan".
The two leaders also called on Taliban to join the political process and enter into dialogue with the Afghan government, the statement said.
Renewing their determination to promote peace, stability, and transparency throughout the region, Obama and Sharif committed to work together to combat international terrorism and extremism and to promote peace and prosperity, the joint statement said.
"The prime minister has had very good meetings with (the Afghan) President (Hamid) Karzai, and I know that President Karzai very much appreciated many of the gestures that Prime Minister Sharif has made.
And I'm confident that, working together, we can achieve a goal that is good for Afghanistan but also helps to protect Pakistan over the long term," Obama said.
Obama and Sharif affirmed their commitment to the Afghan-led and Afghan-owned peace and reconciliation process as the surest way to end violence and bring lasting stability to Afghanistan and the region.
Image: U S President Barack Obama speaks with Pakistan's Prime Minister Nawaz Sharif during their meeting in the Oval Office at the White House in Washington
Photograph:Larry Downing/Reuters