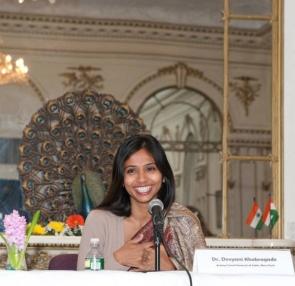 Indian diplomat Devyani Khobragade, arrested last week in New York on charges of visa fraud, was not subject to cavity search, as being alleged, the US Marshals Services has claimed.
"In reference to your question about the cavity search, the answer is no," Nikki Credic-Barrett, spokesperson of the US Marshals Service, told PTI in response to a question on the allegations by the family of the senior Indian diplomat that she was subject to cavity search.
"Devyani Khobragade was transferred to the US Marshals at approximately noon, December 12, pending her initial appearance before a United States federal magistrate judge," the spokesperson said.
"After her appearance, she was released at approximately 4 pm the same day. Khobragade was subject to the same search procedures as other arrestees held within the general prisoner population in the Southern District of New York, which in this case was a strip-search," Credic-Barrett said.
"In reference to the DNA swab, the responsibility for collection of a DNA sample was that of the arresting agency, US Department of State, Bureau of Diplomatic Security," she said when asked about the allegations of DNA swab.