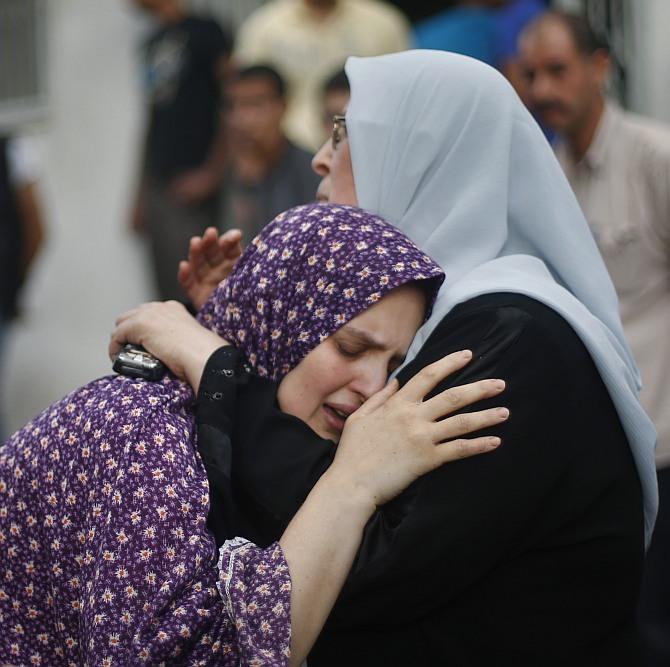 Indirect talks between Israeli and Palestinian negotiators in Cairo to find a long-term solution to the crisis in Gaza entered its second day on Tuesday with no headway, even as people in the Hamas-ruled territory rushed to fix the destruction caused by the conflict.
A senior Hamas official said that his group was locked in "difficult" talks in Egyptian-mediated efforts in Cairo to forge a lasting cease-fire in Gaza with Israel. "We are facing difficult negotiations. The first truce passed without notable achievements. This is the second and final cease-fire," Palestinian news agency Ma'an quoted Mousa Abu Marzouk as saying in light of the three-day halt in fighting that started on Sunday.
Last week, Hamas refused to extend a first 72-hour halt in fighting with Israel unless their demands, particularly the opening of border crossings with Gaza and the construction of a seaport, were met.
An Israeli official told Israel Radio that there had been no progress in the talks so far, as the gaps between the sides remained too vast. Israeli officials said that another 72 hours were needed to cement a long-term cease-fire deal with Hamas.
The radio station reported that the delegation was expected to agree to ease some restrictions in Gaza, including extending fishing rights, increasing the number of materials that enter Gaza, along with Israel allowing funds to enter the Strip to be used to pay the salaries of Hamas officials.
The Israeli delegation said that it was not going to give any concessions regarding Hamas' demands to open a seaport and airport in Gaza, the Jerualem Post reported.
With just 72 hours of calm under the current cease-fire, Palestinians rushed to fix some of the worst of the destruction caused by the conflict started on July 8. Sewage pipes that have been spewing raw effluent for weeks, a lack of clean water and severe power shortages are among the most urgent problems. Aid groups are distributing basic supplies like mattresses and bottles of water.
Four weeks of violence has killed 1,939 Palestinians and 67 on the Israeli side since Operation Protective Edge began on July 8. Israel wants Hamas, the militant Islamic group that runs Gaza, to disarm as part of a demilitarisation of the territory.
Hamas, meanwhile, is demanding a series of measures, including an end to Israel's blockade on Gaza, an extension of fishing rights off the coast and the reopening of air and seaports.
Israeli authorities restrict the movement of goods and people in and out of Gaza, saying they need to prevent weapons being imported. The latest outbreak of violence in the region erupted when Israel launched an offensive that it said was aimed at stopping rockets being fired from Gaza and at destroying a network of tunnels used by Palestinian militants for cross-border attacks.