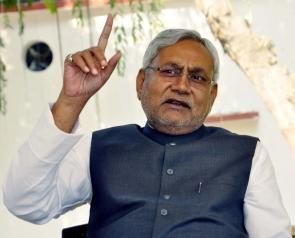 Bihar Chief Minister Nitish Kumar sat on a dharna in front of Mahatma Gandhi's bust at Gandhi Maidan, Patna as part of the Janata Dal-United daylong Bihar bandh to protest the Centre's "discriminatory" attitude towards the state and vowed to get special status.
Accompanied by his ministers and senior JD-U leaders, Kumar took out a march from his official residence at 1, Anne Marg to the Gandhi Maidan.

After undertaking a five-hour sit-in, the CM said that he was sitting on a satyagraha with an unflinching pledge that he and the people of Bihar will succeed in their resolve to get special status for the state.
"Bihar too has a right to development and I am sure we will succeed in getting a special status for development," he said. Nitish said that he and his party colleagues have undertaken a satyagraha with a pledge that "we will be able to get our due rights in terms of special status."
Senior ministers Vijay Kumar Chaudhary, P K Shahi, Shyam Rajak, Nitish Mishra and N N Yadav were among the host of JD-U leaders and workers who sat on dharna with the chief minister.
Elaborate security arrangements have been made at the Gandhi Maidan and metal detecters put in place for checking the visitors as a precautionary measure, police officials said.
The JD-U-sponsored 'Bihar bandh' began on a peaceful note.
JD-U workers took to streets in Patna and other parts of the state where they enforced shutdown of markets and business establishments and blocked traffic in support of their demand for grant of special status.
Some bandh supporters burnt tyres on the road near the Patna University on Ashok Rajpath, Danapur and other parts of Patna to bring vehicular traffic to a grinding halt.
The ruling party leaders and workers took out a protest march on the streets and raised slogans against the Centre.
In districts too, bandh supporters came out on streets in large numbers and paralysed vehicular and railway traffic.
A report from Jehanabad said that the ruling JD-U workers stopped the Palamu Express in the district, while the protesters in Patna prevented the Rajdhani Express and Danapur-Howrah Express from moving towards its onward journey in Patna city.
A report from the Jamui district said that JD-U workers stopped Durgawati Express in the district, while the bandh supporters brought the Delhi-bound Shramjeevi Express to grinding halt at Rajgir.
In Darbhanga, the Darbhanga-New Delhi Sampark Kranti Express was stopped for over 90 minutes at the main railway station, while some JD-U workers laid siege at the railway track at Jehanabad railway station where they burnt tyres to prevent the movement of trains.
In Bhabhua, protestors blocked roads at Mohania due to which scores of vehicles remained stranded.

Image: Bihar CM Nitish Kumar sat on a five-hour dharna at Patna's Gandhi Maidan on Sunday