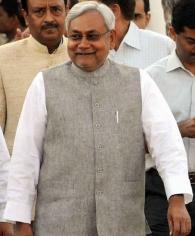 The Bharatiya Janata Party on Saturday alleged that the Nitish Kumar government in Bihar was under threat from its own legislators, who are getting "restless" due to the delay in state cabinet expansion.
"BJP need not destabilise the Nitish Kumar government as often accused by the CM. The government is under threat of its own Janata Dal – United Members of Legislative Assembly, four Independents and four-member Congress party," former deputy chief minister and senior BJP leader Sushil Kumar Modi told reporters.
"The JD-U MLAs are getting restless due to the delay in cabinet expansion and many of them will leave the party if not made minister," Modi said.
"The four Independents are also running out of patience," he said.
Three Independents had walked out of the House during a special discussion on law and order on Friday because they were allowed only one minute each to speak on the motion.
"They were brought back to the House after a lot of persuasion by JD-U members," Modi said.
"The four Congress MLAs who voted for the Nitish government on the confidence motion have also not committed their support by writing to the governor," he said.
To a question, he said, "The CM may announce any day the joining of hands by JD-U, Rashtriya Janata Dal, Lok Janshakti Party and Congress in the name of their pet assertions of stopping communal forces led by the BJP."
He ruled out any possibility of some sort understanding between the BJP and the RJD as.
Referring to the spate of complaints of children falling sick after drinking contaminated water of hand pumps in schools in the last few days, Modi said, "The state is heading towards anarchy."
"The unfortunate deaths of 23 children after eating a midday meal in a Chhapra school and the series of incidents of children falling sick after drinking contaminated water from hand pumps in schools suggest that Nitish Kumar has become too weak to control such incidents," he said.
Dismissing the chief minister's allegation of conspiracy by the Opposition against his ministry, the BJP leader said, "Nobody will buy it. The state machinery is with you so is the police, why don't you catch the conspirators."
Leader of Opposition Nand Kishore Yadav accused the state government of failing to give an answer to issues posed to it about the serial blasts in Bodh Gaya, midday meal tragedy and Naxal attacks, during monsoon session of the two Houses of the state legislature, prompting the opposition to walk out.
On the chief minister's charge of BJP adopting the strategy of "hit and run" (by staging walk-outs), Yadav said, "Shall we sit to hear speeches of government bereft of any facts."
The BJP got a boost today with former JD-U MLA R R Kanaujia from Barbigha in Sheikhpura district joining the party in the presence of Sushil Modi, Nand Kishore Yadav and party state chief Mangal Pandey.