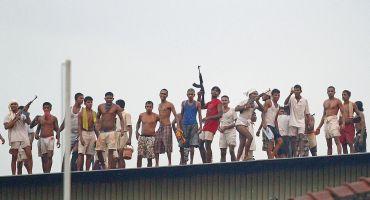 A major riot broke out in Sri Lanka's main Welikada prison in Colombo on Friday, leaving at least nine people dead and 35 others injured.
The riot started after authorities launched a search for drugs within the prison, and the inmates turned against the operatives of the police's Special Task Force.
"They grabbed weapons and started shooting at the STF", said prison official M S Sathishkumar.
Among the injured were a commanding officer of the STF, Anil Jasinghe, the director of Colombo National Hospital said.
The military and the police special task force were deployed and tear gas was fired to quell the riot.
Rioting inmates threw debris on to the main Baseline Road highway from the roof of the prison.
The road was subsequently closed for traffic as the riot intensified.
A similar riot at Welikada in 2010 sent over 40 police and prison guards to hospital.
Image: Rioting prisoners from Welikada prison fire weapons from roof during a clash between Sri Lanka's Special Task Force in Colombo
Photograph: Reuters