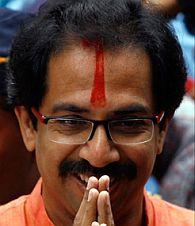 With focus on 'Mission 150' for the forthcoming Maharashtra Assembly elections, Shiv Sena president Uddhav Thackeray on Tuesday expressed confidence that the traditional 'puja' at Pandharpur next year would be performed by a chief minister from the Sena-Bharatiya Janata Party alliance.
"Definitely. It would be performed by a CM from the Shiv Sena and the saffron alliance," Uddhav told reporters when asked whether he would perform the 'Ashadhi Ekadashi puja' as CM next year.
Traditionally, the Maharashtra CM performs the puja at the temple of Lord Vitthal and Rukmini at Pandharpur in western part of the state every year. This year, the Ashadhi Ekadashi puja is to be held on Wednesday.
Uddhav said the manifesto of the saffron alliance would focus on the welfare of warkaris and upgradation of facilities being provided to them. "There is no point in talking to this government now. Next government is definitely ours," he said.
'Mission 150' is an initiative of Yuva Sena chief Aaditya Thackeray, who has activated the youth, students and other affiliated wings of the party to do the ground work for the assembly elections.
"We have a mission to win 150 seats at any cost and make Uddhavji chief minister," a senior Sena official said.