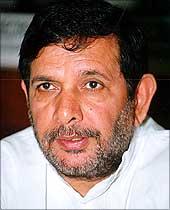 National Democratic Alliance will decide its prime ministerial candidate at the "appropriate time" ahead of the next general elections, Janata Dal-United national president Sharad Yadav said on Friday.
"It is needless to discuss NDA's prime ministerial candidate right now as the general elections are far away," he told newsmen who pressed him to disclose the name of the opposition alliance's best bet to take on Congress
Vice President Rahul Gandhi in the next Lok Sabha elections.
Yadav, who is also the NDA convenor, expressed happiness over the unopposed election of Rajnath Singh as the national president of major partner Bharatiya Janata Party and said his experience would help the NDA in the next parliamentary polls.
He exuded confidence that the BJP-led alliance would return to power in the next parliamentary polls as the electorate was "sick" of the UPA government which was guilty of destroying the country's economy due to its short-sighted policies.
Asked about the key issues in the next general elections, he said price rise and corruption would definitely be the decisive ones.
The JD-U president flayed the Centre's decision to phase out subsidy on diesel and said farmers should continue to get this fuel on subsidised rate. Commercial users, however, must pay the market rate for it.
The Centre, he said, should frame a policy to provide diesel at subsidised rate to the farmers and charge market rate from the commercial consumers.