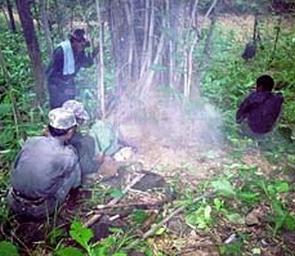 The Centre has directed security forces deployed in Bihar, Jharkhand and Chhattisgarh to tighten vigil in the three states in view of intelligence reports which suggested that Naxals would try to carry out strikes in the run-up to the Lok Sabha polls.
Worried over the plans of Maoists who may target political rallies and prominent political personalities, the home ministry has asked the paramilitary forces deployed in the three states to take maximum precautions and work in close coordination with the state police to foil any attempt by the rebels to disturb peace, official sources said.
The intelligence inputs suggested that the Naxals may carry out spectacular attacks similar to the strike on a convoy of Congress leaders in Chhattisgarh before the state assembly polls in May 2013 which eliminated several top state leaders of the party.
Nearly 30 people, including Chhattisgarh Pradesh Congress Committee chief Nand Kumar Patel and former Union minister V C Shukla, were killed in that attack.
In 2013, there were 383 incidents of violence in Jharkhand, in which 150 civilians and security personnel were killed.
In 353 such cases in Chhattisgarh, 110 people lost their lives.
In Bihar, 69 people, including security personnel, lost their lives in 176 incidents of violence in 2013.
The Union home ministry has already identified 13 worst Naxal-affected districts in Jharkhand as highly sensitive. There are eight highly sensitive districts in Chhattisgarh and five highly sensitive districts in Bihar.
Concerned over high incidents of violence by Naxals, the government has asked the Election Commission to conduct the forthcoming Lok Sabha polls in these 26 districts, besides seven other districts, in the first phase to ensure maximum security and minimum casualties.
The EC will take a final call on the poll schedule.
More than 1.20 lakh central paramilitary personnel, in addition to state police forces, are expected to be deployed for the multi-phased Lok Sabha polls which are likely to be held in April-May.