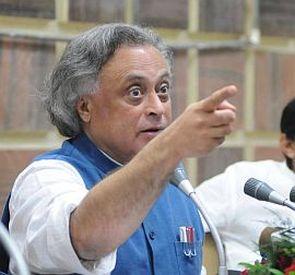 Terming the Naxal attack in Chhattisgarh as a 'holocaust', Rural Development Minister Jairam Ramesh said the ultras resorted to such acts as they felt threatened with the pace of development work.
Condemning the "barbaric incident", he felt the killing of the senior Congress leaders of the state was a big blow for the party but it will rise to the challenge.
"What happened yesterday was a holocaust. I was with my friends Nandkumar Patel, Kawasai Lakma, Mahendra Karma (the slain leaders) on Thursday in Bijapur district and before leaving, I had promised to rejoin them very soon. I did not expect, anticipate or imagine the massacre that took place," a visibly shaken Ramesh told reporters here.
Around 27 people, including Chhattisgarh Congress chief Patel and his son Dinesh, senior leader Karma and ex-MLA Uday Mudliyar, were killed and 32 others injured in the Maoist ambush in a forested area.
Ramesh, however, said there would be no change in the government's two-pronged strategy of providing security and carrying out development activities following the incident and that it would "intensify" the development works in the 20-25 most affected districts.
He said over the last couple of years, Congress party made a determined effort to expand presence in Naxal-affected districts implementing rural development programmes like MGNREGA, Indira Awas Yojayan, and watershed mission which had started showing their impact.
"However, Maoists certainly don't like it and demonstrated once again that they have no faith whatsoever in our political system, in democracy, in electoral politics and constitutional values and all the talk of tribal welfare for them is a sham, is an excuse, and an alibi for perpetrating the violent overthrown of a democratic system," he said.
"This is not only an attack on democracy, this is an attack on the Congress party," he noted, adding the incident has raised concerns over whether to enhance security operations.
With Assembly polls six months away, he felt holding political activities would increasingly become difficult. "If we can't do 'aam sabhas', how will political parties function."