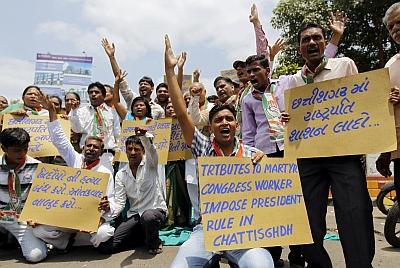 Did the Bharatiya Janata Party government in Chhattisgarh ignore the standard operating procedures in providing security to Congress leaders who were ambushed during their 'Parivartan Yatra' near the border of the Bastar-Sukma districts on Saturday evening?
Sources told rediff.com in New Delhi that the state government had specific intelligence inputs regarding the threat to the Congress leaders.

The attack on the Congress convoy in Darbha eliminated its top rung leadership in the state, including Pradesh Congress Committee chief Nand Kumar Patel, former leader of Opposition Mahendra Karma, former member of Parliament Gopal Madhavan and ex-member of Legislative Assembly Uday Kumar Mudaliyar.
Experts say that given that Karma, the founder of the anti-Naxal Salwa Judum movement, was on the outlaws' hit list for a long time, he should have been provided with additional security by the state administration.
What has put the BJP government in Chhattisgarh on the mat is that just a week ago when the party took out its own 'Vikas Yatra' in the Naxal zone, the security detail was massive.
Even more disturbing was the time taken by the authorities to react to the Naxal ambush.
According to reports, the police team from Sukma took nearly 90 minutes to reach the spot. By then, the outlaws had finished their bloody carnage.
The fact that the presence of such a large number of Naxals in the area went unnoticed too raises eyebrows. Meanwhile, several theories are doing the rounds about the attack on Congress leaders.
Some experts say that in the run up to elections, the Maoists believe in eliminating the political leadership so that the democratic process is disrupted. Naxals have resorted to such tactics in the past when they targeted Telugu Desam Party chief Chandrababu Naidu ahead of the elections in Andhra Pradesh in 2003.

Other analysts suggest that the Naxal attack could be reactionary in nature, considering that their activities had been cut short to a great extent because of the increased presence of central paramilitary forces in the Abujmaad jungles.
Some media reports claim that the attack was aimed at taking revenge for the killing of eight suspected Maoists in the area on May 18.
The BJP has called off its Vikas Yatra in the aftermath of the Darbha encounter and Chief Minister Raman Singh has agreed to a National Investigation Agency probe. But the query on security lapses continues to remain unanswered.

Image: Supporters of the Congress hold placards and shouted anti-Chhattisgarh government slogans during a protest against a recent Maoist attack on party workers | Photograph: Amit Dave/Reuters