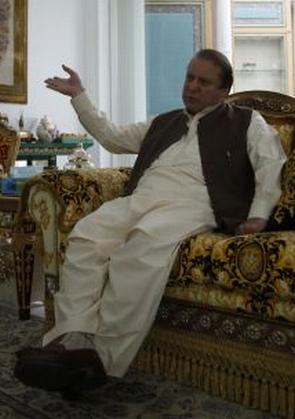 Cameron Munter, former United States ambassador to Pakistan, is optimistic that under the new leadership of Nawaz Sharif, a rapprochement between New Delhi and Islamabad may be on the cards.

Munter, in a teleconference with journalists on Pakistan Elections and the Future of US-Pakistan Relations, put together by the Council on Foreign Relations, noted Sharif's positive comments on improving India-Pakistan relations.
He recalled, "Every time I talked with Nawaz, and with Shahbaz his brother -- who I guess we assume will stay on as the chief minister in Punjab -- there was a smart focus on the economic impact of the measures that are being discussed between these two countries to improve visa processes, to improve the ability to get goods across the border etc."

Munter said, "Nawaz has been a big supporter of that and to his credit, so has Imran Khan."

However, he acknowledged, 'The relations that Nawaz needs to develop with the military at this point will be key here."

Munter said, "Many Indians, because of historical reasons, seem to have a suspicion of the Pakistani military, and the Pakistan military, working with Nawaz, in a kind of positive way, could go a great distance to alleviate those fears.'

He conceded, "Unless they are able to come up with a comprehensive or a coherent approach to India that involves not only the power players among the civilians but among the military, there may be limits to what they can do."

Asked how Sharif's Pakistan Muslim League, which has ruled Punjab for the past five years, has a soft corner for the Jamat-ud-Dawa, the parent organisation of the Lakshar-e-Tayiba which is responsible for the horrific 26/11 terror attacks in Mumbai, Munter said the counterterrorism question "is a key issue that Nawaz understands."

"I certainly hope he does, and I hope we understand that this is a topic that we have to discuss not just civilian to civilian, not just military to military, but you know, in a comprehensive way we have to talk about the common ground we have in the stability of Pakistan, what we can contribute to the future of working together," he said.

Munter said, "We have had some bad years in that (counterterrorism) cooperation, but Nawaz I think has made it clear that he wants to talk about what is it that needs to be done, what is it that America can do in concert with Pakistani authorities to fight terrorism."

"I can only say that I found that his comments were fairly open-minded and that I think what he is trying to do -- what I hope he is trying to do is to leave the door open for not grandstanding or broadcasting ideas in advance, but for sitting down for very meaningful discussions with our military authorities and with our civilian authorities to talk about the future," he said.

Dan Markey, a Senior Fellow at CFR, who also participated in the teleconference, agreed with Munter's assessment on Sharif.
"They recognise that improved relations with India, stability with India, and even trade openings with India all serve those purposes. That's sort of the positive face of the party and of Nawaz Sharif," he said.

But he acknowledged, "He has also been associated with, affiliated with in some instances, more extreme organisations in Punjab, and the question is whether he will actually try to forthrightly tackle the problem of Jamat-ud-Dawa, Lashkar e-Tayiba, and whether he will pull away from the face of being kind of a hard-line nuclear hawk -- which, frankly, is what he was in the 1990s. And how can he manage both of these things at once? It's going to be a very difficult balancing act for him."

Markey also said it is an open question as to how Sharif would "manage what had been a pretty troubled relationship with the military. He was ousted by (former military leader and president Pervez) Musharraf. How will he deal with Musharraf himself? Musharraf's now under house arrest outside of Islamabad. The question there is whether Sharif will be somewhat magnanimous in his victory, let Musharraf off the hook, or if he s going to go for blood."

Munter said, "As far as it goes with the United States, I think that he is straight up about this. I think he does want to have good relations with us. When I talk to some of my predecessors, he made every effort to try to stay in close contact. I think he is going to be very careful with us."

He predicted that Sharif is "going to try to see that we have a balanced policy that has not only the very real concerns on the common efforts we have against terrorism, but also the concerns we have to build relationships in the region, like what he has done in the opening to India and what we all can plan on in the post-2014 period in Afghanistan."