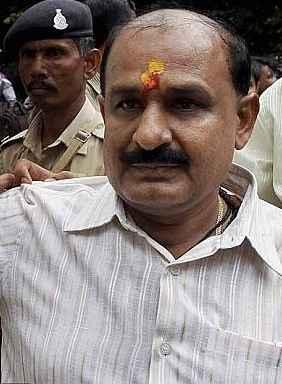 The Gujarat high court on Tuesday granted temporary bail to Vishwa Hindu Parishad leader Babu Bajrangi, serving life sentence in the 2002 Naroda Patia massacre case, to undergo treatment for an eye ailment.
Justice Anant S Dave ordered the release of Bajrangi, lodged at Sabarmati Central Jail in Ahmedabad, for five days to receive the treatment.
In a petition before the high court, Bajrangi said there is 50 per cent blockage in his eye veins and he needs temporary bail to go out and get this treated.
Earlier, he was given bail by the high court on three occasions to attend to his ailing wife and father.
In August 2012, a special court convicted Bajrangi, former Gujarat Minister Maya Kodnani and 29 others in the post-Godhra riot case and awarded them long jail terms.
As per the trial court verdict, the Vishwa Hindu Parishad leader has to remain in prison till his death.
Ninety seven people, most of them from a minority community, were brutally killed by a mob in Naroda Patia area of the city on February 28, 2002, a day after the Sabarmati train massacre in Godhra.