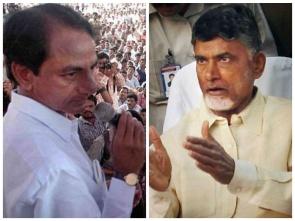 Andhra Pradesh chief minister-elect Chandrababu Naidu has personally invited Telangana Chief Minister K Chandrashekhar Rao for his swearingp-in ceremony on June 8, although the TRS chief didn't invite Naidu for his oath taking ceremony on Monday.
The TRS has, however, rubbished the allegations that they didn't invite Naidu.
Naidu will be sworn in as the chief minister of Andhra Pradesh at the Nagarjuna University in Guntur. This is a clear indicator that the new capital will be somewhere near Guntur.
Moreover he has chosen the Nagarjuna Univesity since it has a massive campus and has some buildings which could be used as the makeshift secretariat.
Naidu has been dropping enough hints to suggest that he will not stay in Hyderabad and function from a different location after his swearing-in. He will move to the makeshift secretariat immediately.
Naidu, apart from inviting KCR, has invited ten other chief ministers, and also Prime Minister Narendra Modi.
Image: Telangana CM K Chandrashekhar Rao and Andhra Pradesh CM-elect Chandrababu Naidu