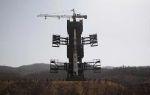 The third nuclear test by a defiant North today drew sharp condemnation from the international community, including the UN, US, Japan as well as China, the reclusive nation's only major ally.
"It is deplorable that Pyongyang defied the strong and unequivocal call from the international community to refrain from any further provocative measures," UN Secretary-General Ban Ki-moon said in a statement.
North Korea said the nuclear test was an act of self- defence against "US hostility" and threatened further, stronger steps if necessary.
The nuclear, which follows previous detonations by the North in 2006 and 2009, had greater explosive force and involved the use of a smaller, lighter device, the state-run KCNA news agency reported.
Reacting to Pyongyang's nuclear test, US President Barack Obama said, "North Korea's nuclear weapons and ballistic missile programmes constitute a threat to US national security and to international peace and security.
"The United States remains vigilant in the face of North Korean provocations and steadfast in our defence commitments to allies in the region," Obama said in a statement.
"This nuclear test by North Korea is totally unacceptable, as it constitutes a grave threat to Japan's security, represents a grave challenge to the international disarmament and non-proliferation regime centered on the Nuclear Non-proliferation Treaty, and seriously undermines the peace and security of Northeast Asia ..." Japanese Prime Minister Shinzo Abe said.
North Korea's closest ally, China too criticised the nuclear test and called in Pyongyang's envoy to protest.
"The Democratic People's Republic of Korea, heedless of widespread international opposition, has again carried out a nuclear test, to which the Chinese government expresses its firm opposition," China's foreign ministry said in a statement.
Chinese Foreign Minister Yang Jiechi said Beijing was "strongly dissatisfied and resolutely opposed" to the test and urged North Korea to "stop any rhetoric or acts that could worsen situations and return to the right course of dialogue and consultation as soon as possible".
"North Korea's nuclear test despite strong warnings from us and the international community is nothing more than an act of isolating itself," South Korean President-elect Park Geun-hye said.
Reacting to the test, British Foreign Secretary William Hague said, "North Korea's development of its nuclear and ballistic missile capabilities poses a threat to international and regional security.
"Its repeated provocations only serve to increase regional tension, and hinder the prospects for lasting peace on the KoreanPeninsula," he said.
"We are anxious that Pyongyang's recent step will not be used as a pretext to boost (its) military presence around the Korean peninsula," Russia's Foreign Ministry said in a statement.
The UN's atomic watchdog also criticised the North Korean nuclear test.
"The International Atomic Energy Agency remains ready to contribute to the peaceful resolution of the DPRK nuclear issue by resuming its nuclear verification activities in the country as soon as the political agreement is reached among countries concerned," IAEA Director-General Yukiya Amano said.
"It constitutes a clear threat to international peace and security and challenges efforts to strengthen global nuclear disarmament and non-proliferation. I am gravely concerned by this action, which deserves universal condemnation," executive secretary of the Preparatory Commission for the Comprehensive Nuclear-Test-Ban Treaty Organisation, Tibor Toth said.
"North Korea's future security and prosperity can only be secured through constructive relations with its neighbours and the international community," Australian Prime Minister Julia Gillard said.
Pakistan regretted the atomic test conducted by North Korea.
"Pakistan regrets that the government of DPRK has conducted an underground nuclear test today," Foreign Office spokesman Moazzam Khan said in a brief statement.
He said Pakistan "believes that all countries should comply with their respective international obligations".
Disgraced scientist A Q Khan, considered the father of Pakistan's nuclear bomb, played a key role in the illegal transfer of atomic technology and equipment, including centrifuges used to enrich uranium, to North Korea.