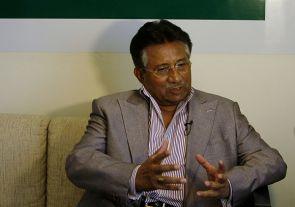 Embattled former military ruler Pervez Musharraf will challenge a move by the Pakistan government to put him on trial for high treason in the Supreme Court, his aides said.
The special court set up by the government to initiate the trial will be challenged in the apex court soon as its judges are "biased", they said.
"We know that the three judges who have been chosen (for the special court) are biased against Musharraf and there is no chance of getting a fair trial," said Aasia Ishaque, spokesperson of Musharraf's All Pakistan Muslim League.
"It would be like prosecution rather than a trial," she said. A petition challenging the trial will be filed as soon as possible, she added.
"We have all the records with us and also the history of these three judges. The selection of these judges shows the mindset of the government," she said.
The special court will try the former military strongman for treason over the imposition of emergency in November 2007.
Media reports said leading lawyers Sharifuddin Pirzada and Ibrahim Satti met Musharraf at his farmhouse on the outskirts of Islamabad in to chalk out a strategy for the challenge in the apex court.
They will submit their power of attorney in the apex court to proceed with the case, Geo News channel reported.
This is the first time the civilian administration has sought the criminal prosecution of a military ruler. Attorney General Munir A Malik, the government's top law officer, on Wednesday said there is strong evidence against Musharraf in the treason case and his punishment could be either the death penalty or life imprisonment.
Musharraf's party earlier described the government's decision to put him on trial as a "vicious attempt to undermine the Pakistan military". The military has ruled Pakistan for about half of its 66-year history and no ruler or top military commander has ever faced criminal prosecution.