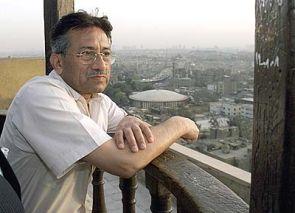 A lawyer for Pervez Musharraf on Thursday told a Pakistani special court conducting his treason trial that the embattled former dictator has been advised by his doctor to go to the US for medical treatment.
Musharraf, 70, skipped another hearing in the special court despite being warned to appear and his lawyer Anwar Mansoor said his client could not appear because of ill-health.
"We have attached a letter with the documents from the doctors of a heart clinic in Texas and they have recommended that he should be shifted to that clinic for further treatment," Mansoor told the court formed to try Musharraf on charges of high treason for imposing emergency in 2007.
Mansoor presented a letter from Arjumand Hashmi, the US-based doctor of the former President, which recommended that Musharraf be immediately sent abroad for treatment.
Hashmi, who has treated Musharraf in the past, reportedly expressed concern over his heart condition and said he should be sent to Paris Regional Medical Centre in Texas for treatment. The doctor made the recommendation on the basis of medical reports.
The court reserved its decision on the issue of Musharraf's personal appearance and put off the case till Friday.
The former army chief is yet to appear in person before the three-judge court, having missed all the hearings because of security concerns and a health scare.
Musharraf was admitted to the Armed Forces Institute of Cardiology in Rawalpindi after he developed heart problems while being driven to the court on January 2. Doctors treating him at the facility have diagnosed him with coronary artery disease.
However, Mohammad Ali Saif, a key member of Musharraf's legal team, claimed lawyers had not made any request to send him abroad.
"We have not submitted any application seeking his treatment abroad. We have just presented a letter by Arjumand Hashmi, who has been treating Musharraf earlier, to support the medical report that AFIC had presented," he said.
Prosecutor Akram Sheikh argued that the court summoned Musharraf six times but he did not appear before it, which can be considered contempt of court.
He further contended that courts do not wait for the accused and then cited the example of Egypt's ex-dictator Hosni Mubarak who was brought to court on a stretcher.
There has been speculation that a deal could be struck to allow Musharraf to leave Pakistan for medical treatment abroad though he currently remains under a travel ban which government ministers have said they will not lift.
Musharraf has described the treason allegations as politically motivated. He is also facing serious criminal charges over the assassination of former premier Benazir Bhutto, the death of Baloch nationalist leader Akbar Bugti and the detention of judges in 2007.
Meanwhile, according to a close aide of Pakistan's embattled former military dictator, Pervez Musharraf has refused to leave the country on "medical grounds" until he is given "clean chit" in high treason and other cases, .
Contrary to the impression that "Musharraf's illness drama" has been staged to prepare a ground to send him abroad under a deal, his friends suggest that all efforts to "persuade" him to leave the country have failed to bear fruit as the Nawaz Sharif-led government wants to "rid" 70-year-old Musharraf of as early as possible.
"Musharraf is more keen to get his name cleared in high treason and other cases rather than leaving the country on medical grounds," said former deputy prime minister Chaudhry Pervaiz Elahi who is considered close to the former president.
Elahi and his party -- Pakistan Muslim League-Q -- remained a partner with Musharraf during 2002-07. It has recently put its weight behind Musharraf and launched an offensive against the PML-N government for 'only' trying him under treason charges for imposing emergency in the country.
"Gen Musharraf sees treason and other cases politically motivated and based on personal vendetta. He wants to face them and get his name honourably cleared," he told PTI.
There have been unconfirmed reports that Musharraf may leave Pakistan this month on 'medical grounds' after a deal with the PML-N brokered by international players – Saudi Arabia and the United States.
But Elahi says Musharraf has no such plan.