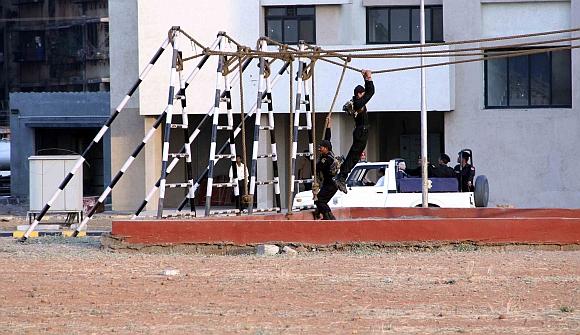 In a setback to operational preparedness of National Security Guard commandos based in Mumbai, the counter-terror unit has been forced to abandon its newly built concrete premises as cracks were found in the structure, rendering it unsafe for use.
A squad of 241 'black cat' troopers and support staff, deployed at the newly created hub in the western metropolis to enable the commandos to take swift counter-terror and  counter-hijack missions, has been left with not choice but to occupy 'semi-permanent and pre-fabricated' accommodation in the same complex, officials said.
The Mumbai NSG hub is located in Marol in suburban Andheri on a 23-acre land given by the Maharashtra government for stationing the crack commandos.
"The commandos are back to the square one as the building has been declared unsafe for living following the appearance of big cracks. They are now living in semi-permanent structures even as they have to stay continuously alert to undertake any operation anytime," they said.
The building, which has developed cracks, was meant for housing, training and other operational requirements of NSG commandos. The facility was inaugurated in February this year by then Home Minister P Chidambaram, three years after the hub was conceived in the aftermath of the 26/11 Mumbai terror attacks of 2008.
The NSG headquarters in Mumbai, according to the officials, has now rushed to Mumbai a team of engineers drawn from IIT-Roorkee, architectural experts and force officials to study the 'big cracks' that developed soon after its inauguration earlier this year.