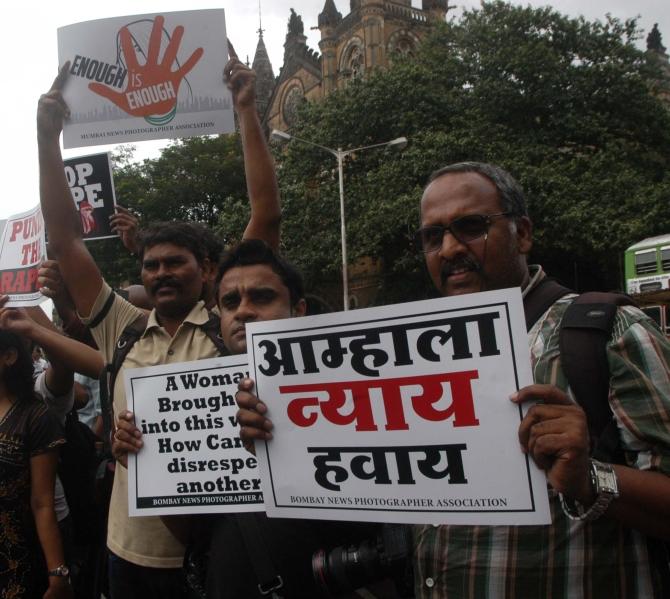 Four of the five accused in the August 22 gang-rape case were identified by the photojournalist and her male colleague during an identification parade held in a south Mumbai jail on Friday, police said.
"A test identification parade was conducted on Friday at Byculla jail in south Mumbai area, where the victim identified four of the accused including Salim Ansari, Vijay Jadhav, Mohammed Kasim Hafiz Shaikh and Siraj Rehman Khan as those who had sexually assaulted her on August 22 at Shakti Mills compound. The victim's male colleague also identified the four culprits," a crime branch official said.
During the TIP, a group of persons, including the four accused, were queued up before the victim and her male colleague who identified them, the official said, adding "the process was conducted under the supervision of a magistrate."
On Wednesday, the TIP of a minor, who is an accused in the case, was held in south Mumbai's juvenile remand home and its outcome too was positive, police said.
The 23-year-old photojournalist was sexually assaulted at the deserted Shakti Mills compound in Mahalaxmi area on the evening of August 22 when she went there on an assignment with a male colleague.
Within three days of the crime, the police arrested all the five accused, namely Salim Ansari, Vijay Jadhav, Mohammed Kasim alias Kasim Bangali, Siraj Rehman Khan and a minor.

Image: A protest against the gang rape against the rape of a photojournalist in Mumbai