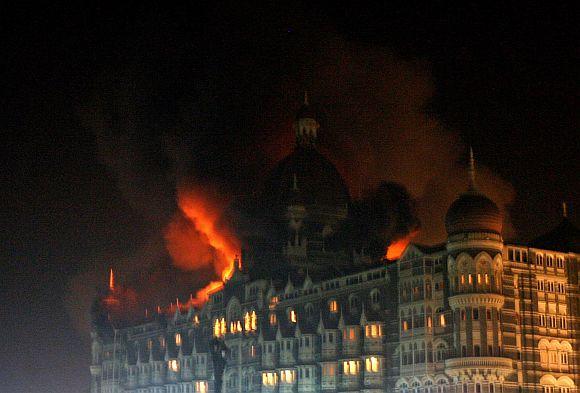 One of the alleged lashkar-e-Tayiba trainers involved in the 2008 Mumbai terror attacks used to frequently get money transfers into his account, two Pakistani bank executives told an anti-terrorism court on Wednesday.
The two bankers of the Muslim Commercial Bank in Pakistan-occupied Kashmir recorded their statements during the hearing of the Mumbai attacks case, court sources told PTI.
The hearing in the case was adjourned till January 22. The witnesses said the amount ranging between Rs 20,000 to Rs 2.5 lakh had been deposited in the name of accused Hammad Amin Saddiq on several occasions.
The defence lawyers cross-examined the witnesses. They asked how could it be established that "this small sum of money" was used for terror activities, the sources said.
Saddiq is accused of being one of the trainers and a key LeT member.
LeT operations commander Zakiur Rehman Lakhvi, Abdul Wajid, Mazhar Iqbal, Sadiq, Shahid Jameel Riaz, Jamil Ahmed and Younas Anjum were arrested in 2009 for their alleged role in the attacks in which 166 people were killed and over 300 injured.
They have been charged with planning, financing and executing the attacks. The trial is taking place at a slow pace and is one of the main bone of contention in resumption of full-fledged dialogue process between India and Pakistan.
The prosecution team is upbeat about the case but the defence team held a press conference last year punching holes into evidence on record.
Pakistan has acknowledged that the conspiracy behind the attacks was hatched on its soil.
India had recently handed over five key documents running into nearly 600 pages for use in the trial here so that prosecutors can proceed against the seven accused.
The documents include a certified copy of the Indian Supreme Court's judgement on the Mumbai case, depositions by two doctors who conducted the autopsy of nine slain terrorists and the chief investigating officer who probed the case, and summons to witnesses.