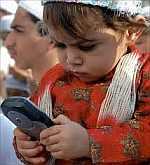 Alarmed by the recent terror attacks on Shia processions by Taliban, Pakistan on Friday shut down the mobile phone network in Karachi, Quetta and some other cities as a part of security measures for this weekend, which is the climax of the holy month of Muharram.
Mobile phone services and even wireless phone networks of the Pakistan telecommunication authority were suspended since 1 pm (local time) on Friday in Karachi, Quetta and some other parts of the country including two sectors in capital, Islamabad.
Interior Minister Rehman Malik also announced more curbs for Saturday and Sunday, the 9th and 10th of Muharram, saying that they had also received requests from the Punjab province to suspend mobile phone services in 14 major cities and towns including Lahore, Rawalpindi, Faisalabad and Multan.
The 9th and 10th of Muharram mark a key event in the Islamic religious calendar particularly for Shias.

The suspension of the cellular services came after bomb blasts in Karachi and Rawalpindi aimed at Shia Imambargah's and a Muharram procession this week, which left at least 25 people dead and several injured.
This is the fifth time this year that the government has opted to suspend mobile services because of security measures.
Malik told reporters in Islamabad that the mobile services would be restored by midnight but again jammed from 6 am on Saturday till the completion of Muharram processions taken out all over the country with the biggest being in Karachi.
He advised people to not bring out their motorcycles on the 9th and 10th of Muharram and noted that there was already a countrywide ban on pillion riding.
Malik said mobile phone services would remain suspended in many parts of the country on Saturday and Sunday including some tribal and northern areas, which are said to be the hotbed of activities by the Tehreek-e-Taliban Pakistan and other hardline militant Sunni Muslim groups.
The TTP claimed responsibility for the bomb blasts this week in Karachi and Rawalpindi.
The provincial government of Sindh had also declared a public holiday on Friday for security reasons and many businesses, markets, shops and educational institutions remained closed with scare transport on the roads.
"People are facing inconvenience but all these measures are aimed at ensuring heightened security during Muharram and to prevent terrorist attacks about which we have creditable intelligence reports," he said.
Militant hardline groups have carried out the most attacks on Shias in Karachi and Quetta and in December 2009, a suicide bomber killed 43 people in Karachi at a procession to mark Ashura, the 10th day of Muharram.