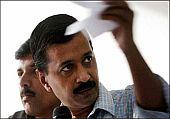 A day after targetting BJP chief Nitin Gadkari, Arvind Kejriwal on Thursday said more truth will be out on investigation showing how politicians of all parties are in collusion with each other.
He said they have just started the process and it has to be taken forward.
"If there is a detailed investigation, more truths will be exposed. It will show how politicians of all parties have industries and they are taking water from dams built for irrigation purpose (in Maharashtra)," he alleged.
Kejriwal had on Wednesday accused Gadkari of receiving personal favours by getting around 100 acres of agriculture land in Maharashtra after the Congress-NCP government there bent rules.
When allegations are levelled against them, he said, both BJP and Congress term these as useless.
"It may be useless for Salman Khurshid but it is not useless for those whose crutches and tricycles have been stolen. For Gadkari, it will be useless but for farmers who have lost their land, it is not useless," he said.
Responding to Gadkari's remarks, Kejriwal said land acquired for irrigation should only be used for public interest and "if national interest has to be served, why only Gadkari? If they had given out advertisements, 1000 such organisations would have come out who are doing good work.
"The Supreme Court judgement clearly says that excess land acquired for a project will be auctioned only and it cannot be given to an individual. What we have brought out is just one example," he said.
Alleging collusion between politicians and industries, Kejriwal said people want to know why Gadkari has not raised questions on dam water meant for irrigation is not being used for the stated purpose.

"Why is it that when we spoke of Robert Vadra, Sharad Yadav and Akhilesh Yadav came up in his defence? What does this show?" he said.
"Digvijay Singh has recently said that politicians do not target relatives of each others. What does this show? Is corruption not an individual issue?" he added.