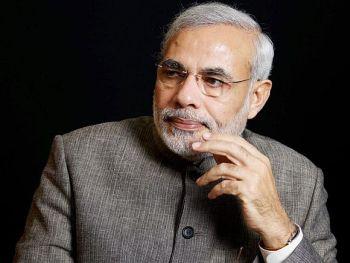 Jammu and Kashmir Chief Minister Omar Abdullah on Monday admitted there is a Narendra Modi effect on the Bharatiya Janata Party cadres but said to call it a wave in the country for its prime ministerial candidate would be an "exaggeration".
"It would be wrong on our part to deny any influence of Modi in the elections -- I cannot say there is Modi wave -- there is effect of Modi," Omar told reporters in Jammu.
To a query whether there was a "Modi wave" in the country ahead of the Lok Sabha elections due in May next year, he said, "I think Modi wave would be a bit of an exaggeration".
"There is an effect of Modi -- That effect may not be on the average voter but it is visible on cadres of BJP. What impact it will have on elections let us wait and watch."
To a question about his party National Conference's alliance with the UPA and whether his party will join any Third Front, Omar said it is a "committed constituent" of the ruling alliance at the Centre.
"I have nothing to do with Third Front. National Conference is committed constituent of UPA," he added.
On other issues, Omar said J and K is an integral part of India and he had never questioned the state's accession to the country.
"J-K acceded to India. If we acceded to India, are we not an integral part of India...of course we are.
It is a part of India, there is no two ways about that. There may be difference about how the state acceded to India as compared to other sides but that does not call into question accession," he said.
Omar had last month said though J and K had acceded to India, it never merged with the Indian Union the way other states have.
"Please do not put your words in my mouth? I never used the word 'conditional' nor the word 'incomplete'....I have not used such words. You pull out the assembly record and say what I had said," Omar said, replying to a question about his comments over accession of the state to India.
Asserting that Indo-Pak border truce is holding now after a spate of ceasefire violations by the neighbouring country, Omar also asked Pakistan to respect the ceasefire.
Image: BJP's PM candidate Narendra Modi