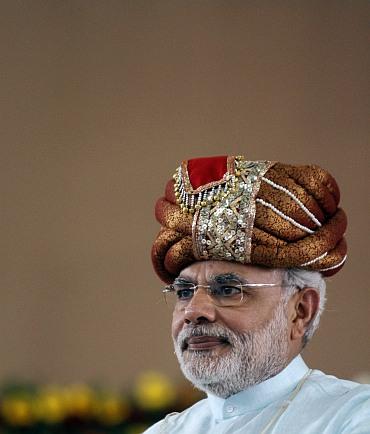 Gujarat Chief Minister Narendra Modi will kickstart his party's official election campaign with help of 3D technology on Sunday at 6 pm from Ahmedabad, and will simultaneously address people in Ahmedabad , Rajkot, Baroda and Surat with the help of 3D high-technology, says our correspondent.
Narendra Modi brings in some new elements in his publicity campaign in every election. In 2007, he had used  the 'Modi mask' for the first time ever in India to attract people.
Then, he used Google+ Hangout, an online conferencing system, to reach out to netizens. That attracted more than 5,000 questions online. His Hangout was just the fourth time in world politics and the first-ever experiment by an Indian politician.
American President Barrack Obama had used it for the first time with 4 lakh followers in eight months, but Modi got 4 lakh followers in just 15 days.
He will be in Ahmedabad on Sunday, but his audience in Rajkot, Surat and Baroda will feel as if he is speaking live from the stage before them, thanks to the 3D technology. The technology is different from video conferencing or virtual meetings.
Modi's Sunday speech will give the illusion that he is physically present in the other three cities too. Read Zachary Sniderman's blog  to know how this technology works.