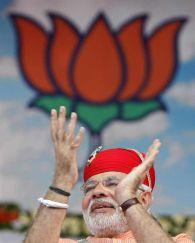 After much anticipation, Gujarat Chief Minister Narendra Modi will visit Karnataka on Friday to address a rally ahead of the assembly elections in the state. He will address a Bharatiya Janata Party rally at the NationalCollege grounds in Basavagudi, Bangalore at 5.30 pm.
This, however, will be Modi's only appearance in Karnataka. Although the Karnataka BJP is hoping that Modi would dedicate more time to Karnataka, the Gujarat CM will stick to just one rally.
The rumour is that Modi would not want to be part of a losing campaign as it may hinder his chances in the race for the prime minister's post.
BJP Karnataka Chief Prahlad Joshi informed reporters in Bangalore that he would discuss with Modi if he could spare more time for Karnataka.