Thanks to R Sridhar's TickleMeThink, chief executives will no more suffer from creative blues.
You have 15 minutes to go into a meeting your boss decided to hold just two minutes ago. Agenda: brainstorming about the new project. What you need are 10 ideas (less for actual application, more to appear prepared). Clearly, there isn't much time to put on your cerebral hat.
For future reference, you could invest your time in reading Roger von Oech's A Whack on the Side of the Head to learn a trick or two about thinking creatively spontaneously, or otherwise. For now, here's an out-of-the-box idea. Try app-ing it. Forget Google. Raid an app store instead for a quick fix. There, you will find the handy stratagem, TickleMeThink, an app that helps anyone get ideas for any situation(s), developed by R Sridhar, innovation coach and founder, Ideas-RS, in conjunction with brand consultancy firm, Landor Associates. The app will be available in Apple's App Store in about a month's time and will be priced at $3.99 (approximately Rs 220 at an exchange rate of $1 = Rs 55).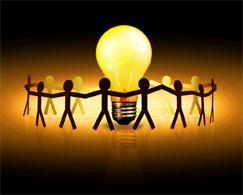 Sridhar describes it as a simple app that will allow users to capture the problem statement in a simple way and help generate ideas to solve it. While he doesn't have a specific profile in mind for users, he does deem the app a business app. "It can be used extensively by executives looking for solutions to problems in their specific field of expertise, or entrepreneurs wanting to fix business related issues," says Sridhar. Examples of possible problems for which fixes may be sought include ways to attract talent for a human resources executive or to increase production for a person with manufacturing background.
Users should, however, not expect the app to do the thinking for them. It is merely a means to systematise the creative thinking process in a way. This is how it will work: You feed in a clear, concise problem statement and use the six options that the app provides to look for ideas to fix it. The options include call a friend (go through your phone book and see who on the contact list could help), web search (simple googling), action verb (pick from a list of randomly chosen list of verbs and see what thought it triggers), visuals (works similarly like action verbs), quotes and provocative questions.
TickleMeThink is not a first-of-its-kind app - idea-generation applications like Riffer and Ideas (brainstorming, mindmapping and inspiration) are available at Apple's App Store and Idea Generator on Android. All of these work similarly in that they do not provide direct suggestions (so no risk in ideas being replicated there). They use word associations, colour coding, visuals, the works to tickle your grey cells.
"Many of the solutions you think up or come across may not be disruptive. But we often tend to overlook the obvious and, in all its simplicity, that may just be the fix you need," says Sridhar. He shares an example from the time he tested the app. The problem statement was how to retain talented people. He called up a friend, a Physics professor. Sridhar asked him for suggestions but was stumped by the response. The friend in question had a counter question, why are companies so hung up on holding back their employees.
He said, when they had a student, it was assumed he would finish his course with them and then go away to pursue another opportunity. When he came back, they welcomed him, glad for all the additional experience he brought with him. If companies realised that employees would use their company as a stepping stone, it might help them plan their policies differently and, hopefully, better.
Will it work? Possibly. Varda Pendse, director at Cerebrus, a human resource consultancy, says: "Using visuals or action verbs, associations and dissociations for idea generation is a fairly standard and known process. What this app seems to have done is systematised the process for the smartphone/app-driven younger generations." For starters, that's a good idea.
Image: Courtesy, yaleseattle.org