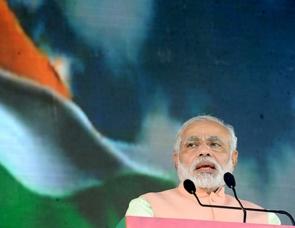 Storming the capital with a whirlwind campaign, Narendra Modi on Saturday attacked Prime Minister Manmohan Singh and Finance Minister P Chidambaram and alleged that they have ruined the country with their "bookish knowledge".
Addressing a series of election rallies in Delhi before the assembly polls, Modi said though he does not question the knowledge or qualifications of Dr Singh and Chidambaram, but with their "intelligence and bookish knowledge, the two leaders have destroyed the country".
"They (Dr Singh and Chidambaram) say we don't want to learn Economics from Modi, but you should have at least learnt from (former prime ministers) Narsimha Rao and Atal Bihari Vajpayee. Then you would have understood how to run the country. Both were not considered economists, but the two great leaders were aware of the country's problems," Modi said.
Verbal sparring between Modi and Chidambaram has been going on for some time. Modi had alleged at a rally in Jodhpur on Friday that Chidambaram feels buying gold causes inflation. The
finance minister responded by saying the Bharatiya Janata Party's prime ministerial candidate is giving his "first lesson in economy" and rejected his contention.
An undeterred Modi continued the onslaught against Chidambaram and Dr Singh at his rallies in Delhi.
Taking a dig at the top leadership of the Congress, Modi said, "Our PM is a big economist. We never questioned that. The finance minister is also very educated. We never challenged that."
"A top ranking minister in the central government, who considers himself to be all-intelligent, thinks he has got all the brains in the world and that the others are brainless. The same minister said prices are rising because the poor, who were earlier only eating dry bread, are now eating two vegetables. Tell me, are prices rising due to this," he asked.
Later, Modi took a jibe at Chidambaram on his Twitter handle, saying, "Economy is in trouble, youth want jobs. Devote more time to economics not petty politics. Chidambaramji, please focus on the job at hand!"
At his poll rallies in Shahdara, Sultanpuri and Chandni Chowk in Delhi, Modi said in its attempt to target him, it has become a habit of the Congress to pose questions to Gujarat on every issue.
"Ye fashion ho gaya hai, Chunav Delhi aur Rajasthan mein hai, lekin jawab Gujarat ki sarkaar se maang rahe hain. (It's become fashionable, there are elections in Delhi and Rajasthan, but they want Modi to answer questions on Gujarat)," he said.
Obliquely referring to the snooping scandal involving illegal surveillance of a woman, Modi said the Congress had earlier resorted to such "tricks" during the Gujarat elections to malign him, but without any success.
"They tried every trick to discredit me. But Gujarati people have defeated those attempts. Despite allegations the Congress made through Facebook and Twitter, the people of Gujarat gave a befitting reply," he said.
Raking up the Commonwealth Games scam in Delhi, he said "CWG was an opportunity to enhance our brand. Forget stealing money, they lost an opportunity to project Delhi to the world."
Referring to the BJP's chief ministerial candidate Harsh Vardhan, he said, "We promise good governance and we are presenting an honourable person as our CM candidate."
Attacking Chief Minister Sheila Dikshit over the issue of price rise, he said, "A Congress minister says that the government's job is not to sell vegetables. But see what Dikshit is doing now. Isn't she selling onions? I am surprised that despite the code of conduct, why the Election Commission helped her."
He also targeted the Delhi government over the high power tariff.
"After independence, had there been a focus on good governance, then the nations which won independence after us would not have been considered as developed nations. The Congress does not believe in good governance," Modi said.
Taking a dig at the Congress-led government, he said, "In the coming years, it will come out with different Acts... There will be an Act for breathing, right to drinking water Act, Act to walk on foot paths."