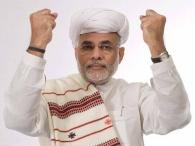 Endorsing Nobel laureate Amartya Sen's views against Narendra Modi, the Janata Dal – United on Tuesday said the Bharatiya Janata Party leader was not fit to be the prime minister and his arrival on the national stage has resulted in the focus shifting from burning issues to non-issues.
"Since this man from Gujarat has arrived on the national scene, this drama has begun," JD-U President Sharad Yadav said, referring to the duel between Congress and the BJP over Modi's "puppy" and "burqa" remarks.
Yadav, whose party had parted ways with the BJP after Modi's elevation as the chairman of the BJP's Election Campaign Committee, held Modi responsible for diverting public attention from corruption, unemployment and farmers' plight and said both the major parties were indulging in a slug-fest over non-issues.
Party spokesperson KC Tyagi ridiculed Modi's projection as a national leader and said he was "not fit to be PM".
"His own party chief minister Shivraj Singh Chouhan has shown him his place," he said, referring to the absence of the Gujarat CM's photograph among those of senior party leaders in his election campaign in Madhya Pradesh.
Tyagi welcomed Chouhan's and BJP MP Shatrughan Sinha's statements that L K Advani remained the tallest party leader.
Yadav also said he agreed with Sen's views on Modi.
"I welcome his statement. If not for him (Modi), our alliance with the BJP would not have broken," he said.
Sen had said on Monday that as an Indian citizen, he does not want Modi as his PM.
"He has not done enough to make minorities feel safe," Sen had said while disapproving of his purported economic model as well.