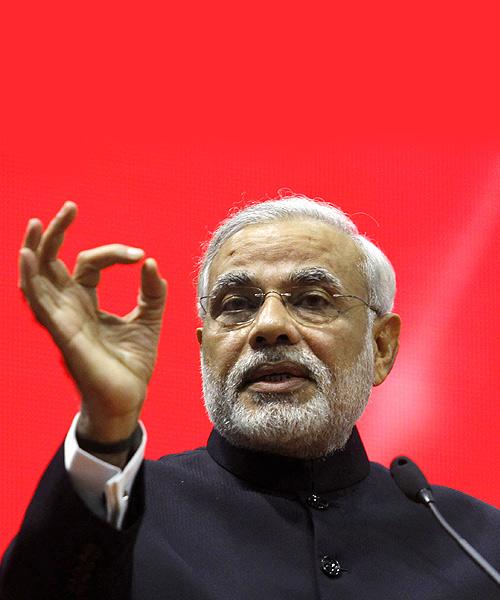 Ahead of United States envoy Nancy Powell's meeting with Narendra Modi, External Affairs Minister Salman Khurshid on Wednesday hoped America will apply with regard to the Gujarat chief minister the standards consistent with its policies in dealing with issues like human rights.
Holding that the US was free to interact with Modi, Khurshid, however, said, "There are a lot of things that they will not and we should not put behind."
Khurshid hoped Americans, Europeans and other countries would apply standards consistent with their policies in dealing with issues of human rights. He said that in the past, India was lectured by a number of countries on human rights and it would be interesting to "know what Powell tells Modi."
"He is not the example that should be seen as an Indian. We are a country that believes in Gandhian way of life, compassion, service without recognition and none of these terms applies to Modi," he said.
Meanwhile, External Affairs spokesman Syed Akbaruddin said it was normal for foreign embassies to make a request for facilitating meetings with "constitutionally-elected functionaries" of India. "The request was made quite sometime back and the MEA said they could proceed with the meeting with the constitutionally-elected functionary. It is a normal courtesy extended to all the heads of missions," he said.
Asked how he saw the upcoming meeting, the spokesman said, "We consider the meeting between the ambassador of a country, which has friendly relations with India, and a constitutionally-elected functionary of a state," he said.
Signalling an end to nine years of boycott of Modi in the aftermath of post-Godhra riots, Powell is meeting the Gujarat chief minister on Thursday in Gandhinagar. Khurshid said, "As far as any other country treating him or for that matter any other political party dealing with him, everything has to be done on merit."
"They (US) have to understand that they are dealing with particular set of circumstances, they are dealing with particular background with the person they are dealing with. But it's their decision. We did not persuade anyone not to give a visa and we are not going to say that you give a visa," the external affairs minister said.
"There are a lot of things that they will not and we should not put behind. The holocaust is not put behind and if the holocaust is not put behind who are we to lecture them to say you put the holocaust behind?"
"Similarly, if we find that there are certain things that still have to make accountable, then that's our decision as a country as people and they should not by any act of theirs or by any decisions of theirs undermine something which is our democratic entitlement. I am sure they would not want to undermine our democratic entitlement," Khurshid said.
He also referred to conviction of Maya Kodnani, a former minister in Modi government, in a riot case. "Maya Kondani has been convicted for most horrendous slaughter that had taken place. She was a Minister in Modi's government. I only want to know if Modi or somebody in his government feels responsible for what Maya Kondani did," he said.
Image: After years of shunning Narendra Modi, Nancy Powell, US ambassador to India, will meet him at his residence in Gandhinagar