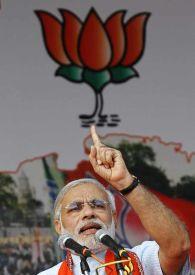 Narendra Modi on Wednesday said he was committed to bring back black money stashed abroad and assured people that if BJP is voted to power, he would set up a task force, amend laws and distribute the money brought in as "gift" among honest tax-payers.
"The whole country is worried about black money. It is an anti-national activity... For bringing back this black money, you require a political will. I give an assurance to my countrymen that when we will form a government in Delhi, we will create a task force and if necessary will amend the laws," the BJP's prime ministerial candidate said as he launched the party's much-hyped "Chai pe charcha with NaMo" (a discussion over tea with Modi) campaign.
"We will bring back each and every penny deposited abroad by Indian citizens. I am committed to this because this money belongs to the poor people of India and no one has the right to do this kind of anti-national activity," he said answering a query in this regard.
Modi was interacting with people here as part of "Chai pe charcha with NaMo", where he answered questions from the public from across the country on the theme of good governance.
The programme has been coined by BJP using the 'tea-seller' barb hurled at Modi by rivals to reach out to voters across the country and engage with him.
The Gujarat chief minister launched the first such programme today where he interacted with public at tea stalls and answered queries on good governance. The programme was simultaneously held at 1,00 locations across 300 cities across the country.
"It is the prime responsibility of the government to bring back black money. Only the next government will be able to do this and this is my personal commitment," he said.
As an incentive, he said, whatever such money is brought in, 5 to 10 per cent of it will be given as a "gift" to those salaried class who earned fixed income and honestly paid taxes," he said.
"I will distribute this 5 to 10 per cent amount to all those who have fixed incomes and are regular tax payers," Modi said, in an apparent bid to woo the salaries class and employees ahead of elections.
He stressed on good governance saying the common man expects nothing from the government except good governance, which has become a casualty now, and said this trust needs to be re-established.
Modi said bad governance was like diabetes that brought many other ailments with it.
He lamented that even small nations have developed, but India has not made its mark like them in the world.
Hoping to brew success with 'chai pe charcha', Modi said politics has changed and is not the same as in the past.
"Today, public demands accountability and every elected represented has to remain connected with the public," he said.
He said in tune with the changing times, systems in democratic institutions should also change and they should run on democratic principles.
Citing examples from the past, he talked about Sher Shah Suri for developing infrastructure, Todar Mal for land records and Chanakya for a good taxation system.
Quoting Chanakya, he cited the example of a honey bee which extracted nectar from flowers without causing any harm to them and said taxation should be such that it causes no hurt to the tax-payer.
Modi answered queries on a host of other issues like deteriorating law and order in Uttar Pradesh, bad conditions in Bihar to skill development, green energy and involving professionals in governance.
To a question on deteriorating law and order, he said, "I agree with your concern. Law and order should be the first priority for good governance. But sometimes the Centre and states fight over small issues after an incident takes place. We should work together and make use of technology in checking crime, including terrorism."
He suggested the creation of a common network of technology with the help of the Centre to fight terror.
The "Chai pe charcha with NaMo" campaign will be held on a large scale with at least 10 rounds of such sessions where senior BJP leaders including Modi will answer public queries on a host of issues.
There will be a gap of five days between each such round and the party today announced the first 1,000 locations in 27 states identified by it for the campaign.
The unique election campaign strategy stems from the recent jibe of Congress leader Mani Shankar Aiyar who had said that Modi could not become prime minister but could certainly serve tea at the January 17 AICC session.
Turning the jibe to its advantage, BJP poll strategists have decided to use Modi's 'tea seller' past to reach out to as many voters as possible by inviting them to talk to the leader as part of the new project.
DTH, satellite, Internet, mobile phones and social media are being used simultaneously for this tea campaign.