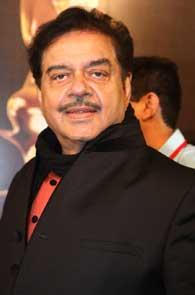 Bharatiya Janata Party Member of Parliament Shatrughan Sinha on Tuesday shocked party leaders and workers alike when, during a visit to Patna, he stated, "Modi ke liye Delhi abhi dur hai" (Delhi is still far for Modi).
Gujarat Chief Minister Narendra Modi is widely believed to be the BJP's prime ministerial candidate for the Lok Sabha election in 2014.
L K Advani was more suitable for the PM's post, opined Sinha, adding that the veteran BJP leader deserved it due to his capability and experience.
"I favoured Advani over Modi, because I like Advani more than Modi," said Sinha, the BJP Member of Parliament from Patna Saheb.
Sinha also expressed his unhappiness over the sidelining of Advani and other senior party leaders within the party and its decision-making process.
"It was wrong to sideline Advani, it will not help the party. By doing so, kahin Delhi dur na raj jaye (the party may lose out on its chance to come to power)," Sinha said.
He described Advani as the godfather of the BJP.
"Advani should not be sidelined," said Sinha.
He observed that senior BJP leaders were being ignored and "it is not good for the health of the party".
Sinha claimed that no BJP leader was "bigger or more popular" than former prime minister Atal Bihari Vajpayee.
"Vajpayee is like a father-figure," said Sinha.