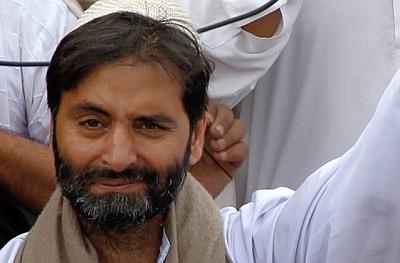 Jammu and Kashmir Liberation Front chief Yasin Malik on Saturday hit out at Prime Minister Narendra Modi over his "hardline" approach on Kashmir and rejected the contention that the separatists are to blame for the stalling of Indo-Pak foreign secretary-level talks.
"Kashmiri (separatist) leaders meeting Pakistani officials has a 24-year-old precedent. Whenever their Prime Minister or Foreign Secretary used to visit India, we used to meet them. It is wrong to say that we have spoiled (India-Pak) the peace process.
"On the contrary, we were trying to strengthen the peace process so that all the stakeholders could express their views.... We are not a third party. Kashmiris will have to be included in any talks relating to their fate," said Malik while replying to queries on Rajat Sharma's show Aap Ki Adalat on India TV.
The Prime Minister is not going to give any diplomatic or political space "to us", Malik asserted, adding that since Modi had decided to take a "hardline" approach, "we in Kashmir are ready, and we will strengthen our movement".

Malik, along with Hurriyat Conference leaders Syed Ali Shah Geelani, Shabir Shah and Mirwaiz Umar Farooq, had met the Pakistani High Commissioner in Delhi this week despite India's protest, triggering a diplomatic dust-up.
The row culminated in India calling off the Foreign Secretary level talks with Pakistan scheduled in Islamabad on August 25.
Malik said that it was former Prime Minister Atal Bihari Vajpayee who, after the Ramzan ceasefire in November 2000, had allowed Kashmiri separatist leaders to go to Pakistan so that an atmosphere for peaceful dialogue could be created.