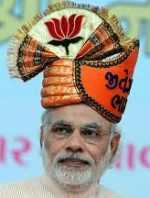 Bharatiya Janata Party veteran Lal Krishna Advani has hailed Gujarat Chief Minister Narendra Modi for his administrative skills, and said that the latter is ''a role model for chief ministers of other states''
Addressing a rally in poll-bound Gujarat, Advani cited that Modi's administrative skills had lent a prominent spot for the state on the global map.
"Modi is undertaking great development work in Gujarat. He is a role model for chief ministers of other states on how to rule, govern and take care of even the poorest," Advani said.
Echoing on the same lines as Advani, BJP president Nitin Gadkari said, "There have been repeated attempts to malign Gujarat and Narendra Modi by manipulating the meaning of secularism; he has even been called as the ''agent of death''. Is it wrong to fight militancy?"
"The Congress party plays vote bank politics, ignores the interests of the country and fuels communalism other than shielding militant organisations. In such a scenario what will happen to the country," he asked.
The words of praise for Modi from senior BJP leaders came just days after Sushma Swaraj openly endorsed him as a potential prime ministerial candidate.
Minister of State (independent charge) for power and Congress party's youth leader Jyotiraditya Scindia, however, made a counter attack at the Modi-led state government.
"In comparison to previous years, the growth of the state has dipped from 16 per cent to nine per cent. As far as the development of Gujarat is concerned, the state's growth story is not of the past decade but over century old wherein the state's local and entrepreneurs have made a name for the region across the globe," said Scindia, while campaigning for the Congress at Surat.
Modi, who is looking at a third consecutive term at the helm in Gujarat, is contesting from Ahmedabad's Maninagar seat. Maninagar is a Modi stronghold and he has held this seat since 2002.
In 2007, he defeated the Congress candidate by around 75,000 votes.
The Congress has fielded suspended IPS officer Sanjiv Bhatt's wife Shweta Bhatt against Modi from Maninagar this time.
Gujarat will go to the polls in two phases on December 13 and 17. The counting of votes will take place on December 20.