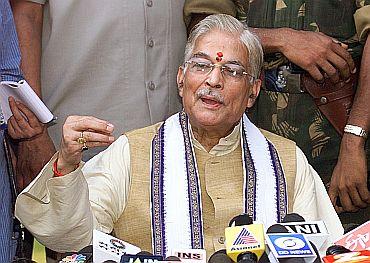 Hours before Bharatiya Janata Party's Parliamentary Board meeting in New Delhi, senior party leader Murli Manohar Joshi had called Gujarat Chief Minister Narendra Modi as "chokh maal" (best product).
"Namo (Modi) is BJP's chokha maal," the veteran BJP leader told reporters, when asked about L K Advani's reservations on declaring Modi as party's prime ministerial nominee.
"The party has put him before the nation, whether people like him or not, time will tell," Joshi said, before leaving for New Delhi to take part in the meeting.
Along with Advani and Sushma Swaraj, Joshi was earlier said to be opposed to the announcement of Modi as BJP's prime ministerial candidate. Later this evening in New Delhi, BJP chief Rajnath Singh announced that Modi has been anointed as party's prime ministerial candidate for the 2014 Lok Sabha polls.
Joshi had come here to take part in a teachers' felicitation programme organised by BJP Member of Parliament Bhupendra Singh. On the Advani's opposition to Modi's elevation, Joshi said that the parliamentary board's proposal should be acceptable to all. "If there is a proposal then it should be vetted at the earliest....Parliamentary Board is competent to take all types of decisions," he said.
He also blamed Prime Minister Manmohan Singh, Finance Minister P Chidambaram and Planning Commission's Deputy Chairman Montek Singh Ahluwalia for the condition of the economy, and called them "anarthshastri".'