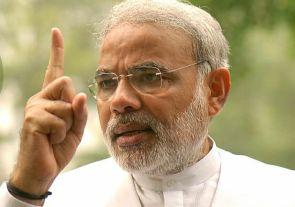 Aam Aadmi Party termed BJP prime ministerial candidate Narendra Modi as "an autocrat and dictator in his party" and claimed that even senior BJP leaders L K Advani and Murli Manohar Joshi have "no say" before him.
"Narendra Modi is a dictator and an autocrat in his party... Advani and Joshi have no 'haisiyat' (say) in front of him," Sanjay Singh, AAP National Spokesperson told reporters.
He also took a dig at BJP national President Rajnath Singh and said while sharing the dias with Modi, he looks like a district level worker.
To a question, Singh claimed that BJP's prime ministerial candidate nowadays has started thinking of himself even bigger than lord Shiva, "that is why BJP workers have started chanting 'Har Har Modi' in place of 'Har Har Mahadev'."
The AAP leader stressed that his party would have no pact with Mulayum Singh Yadav-led Samajwadi Party in Uttar Pradesh.
He also claimed that Kejriwal would win the Lok Sabha elections with a margin of one lakh votes in Varanasi.
Image: BJP prime ministerial candidate Narendra Modi