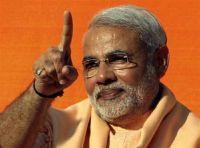 Bharatiya Janata Party ally Janata Dal-United on Tuesday hit out at Narendra Modi, saying he was "desperate" to become the prime minister and dubbed Gujarat's development model as non-inclusive.
"Modi is desperate (to become Prime Minister). He has salready accepted that he is a Prime Ministerial candidate of BJP though the party has said the decision will be taken by its parliamentary board.
"He has, without decision of the parliamentary board, come to the view that he is the Prime Ministerial candidate," senior JD-U leader Shivanand Tiwari said.
Tiwari also slammed Modi for his comments that states like Bihar should adopt the Gujarat model of development and asked him to learn from the Bihar model.
"Narendra Modi is talking like the next prime minister, he is talking about his manifesto as prime minister and most important thing in that manifesto is the Gujarat model. However, what we and the people of Bihar believe is that our's is an ideal model, because it is an inclusive model. It aims to bring the downtrodden to the mainstream.
"We don't know much about it, but what we know is that Gujarat doesn't have that (inclusive) model. The second thing what we feel is our growth rate, which is taken as the yardstick for development of states. We have regularly achieved a better growth rate than Gujarat through our model that is why I think Modi should learn a few things from Bihar's development model," Tiwari added.