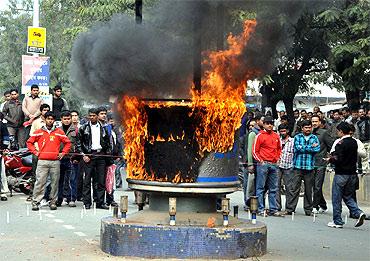 In a case of road rage in the heart of Guwahati city on Wednesday morning, angry public set fire to a traffic police point near Jonali bus stop along the busy R G Baruah Road after a school bus hit a motorcycle rider killing him on the spot and seriously injuring another man on a bicycle. The bus also hit a Santro car after its driver apparently lost control.
The school bus, which belonged to Sudarshan Public School, was traveling from Ganeshguri point towards Chandmari point along the R G Baruah Road when it first hit the man on the bicycle and then rammed the motorcycle killing its rider Arup Kumar Das on the spot.
A mob then went on a rampage after the accident, even as the bus driver managed to slip away from the spot. The people set fire to a traffic police post at the spot in protest against "the police's inability to man it regularly". The angry people then blocked traffic on the road for about four hours till noon, creating traffic congestion in many parts of the city.
The protestors also had an altercation with policemen who had come to the spot after the accident and accused the them of being more interested in 'extorting money' from public transporters and public carriers than trying to discipline them.