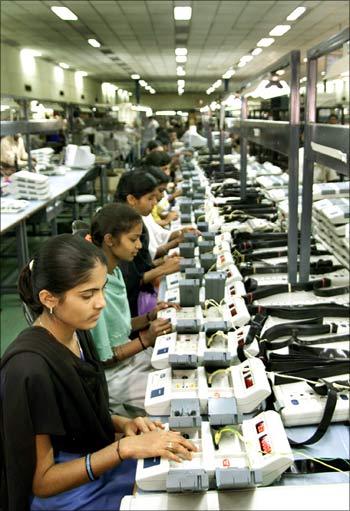 Less than nine per cent of Chhattisgarh households got jobs for 100 days under Mahatma Gandhi National Rural Employment Guarantee Act during 2007-08 to 2011-12, a Comptroller and Auditor General report tabled in the assembly on Wednesday said.
"Only nine percent households were provided employment for 100 days under the MNREGA," Accountant General (audit), Chhattisgarh P C Majhi told mediapersons in Raipur on Wednesday citing the CAG of India audit report for the year ended March 31, 2012.
A scrutiny of records revealed that during 2007-08 to 2011-12, 117.38 lakh households demanded employment, out of which only 10.47 lakh households, which is 8.82 per cent, were provided 100 days of employment, while the remaining 91.08 per cent of households were provided less than 100 days of employment, he said.
Years 2011-12 saw the lowest percentage of 100 days employment provided to only 7.30 per cent of households, according to the report on General, Social and Economic (on-PSU) Sectors, which was tabled in the Chhattisgarh Legislative assembly.
No door-to-door survey was conducted to ensure coverage of eligible beneficiaries. Though gram panchayats failed to provide employment to beneficiaries within the prescribed period of 15 days, unemployment allowance was not paid to beneficiaries, it said.
Despite non-payment of wages on time, compensation admissible under Payment of Wages Act was not paid, the report said adding, during scrutiny of records, it was observed that as against the estimate of 7,159.53 lakh person days, only 4,595.28 lakh (64 per cent) person days were provided by the state government during the period audited.
The report also pointed out serious errors in performance of the Chhattisgarh Housing Board. "No perspective plan or annual plan has been prepared by the CHB to take up construction activities in a planned manner," Manjhi said.
Norms for land allotment to economically weaker sections under housing schemes were also not adhered to and such lands were utilised for construction of commercial complexes, as well as houses for higher and middle income groups, he said.
Besides, houses constructed for economically weaker sections were not handed over to beneficiaries due to failure in arranging loans for poor families, he said.