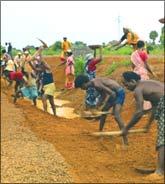 Mincing no words, Union Rural Development Minister Minister Jairam Ramesh on Friday told the Congress Government in Karnataka that grants for various central schemes would be withheld as done during the previous BJP regime if it does not deliver in implementing them.

"If this government does not change the way the MGNREGA and Indira Awas Yojana have been implemented, I will not hesitate to do the same thing I had done to the previous Government. There is no politics in it," he told reporters.

Ramesh's reply came when he was asked whether grants would be provided to Karnataka for the Mahatma Gandhi National Rural Employment Guarantee Act and Indira Awas Yojana as the state was now under the Congress rule.

The Centre had withheld its instalment of grants to the rural job scheme during the previous BJP regime.

In April last year, Ramesh had shot off a letter to the then Chief Minister D V Sadananda
Gowda that the release of the next instalment of the central share for MGNREGA scheme to the state depends crucially on how it was able to spend the funds already available with it.
Ramesh lamented that Comptroller and Auditor General has made very critical observations in implementation of MGNREGA scheme in Karnataka.
Siddaramaiah had taken note of the observations and an independent social audit directorate will be set up.
"I am hopeful that by this year, we will begin to see MGNREGA scheme being implemented in Karnataka in a different way," he added.
However, he said the Centre has been constantly reviewing the works undertaken MGNREGA scheme and providing necessary help after getting reasonable requests from various states.
Ramesh said he cannot take action but only suggest and it was left to the state government to check instances of bogus job cards and misuse of funds under MGNREGA.
"The action has to be taken by the state government. I can only write to the Chief Minister, persuade him and talk to him," he said.