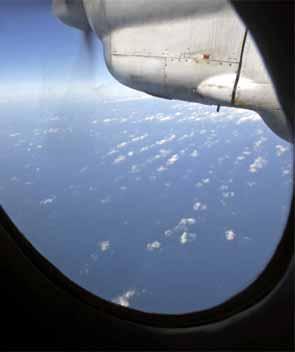 According to engine data automatically recovered from the missing Boeing 777, investigators believe the plane remained airborne for another five hours after vanishing from the radars.
The Malaysian Airlines flight 370, which has been missing for the last six days, could have flown on for hours after the time it reached its last confirmed location, suspect American investigators, according to the Wall Street Journal.
What this means is that the plane could have flown on for hundreds of miles more 'under conditions that remain murky', the newspaper said.
On the basis of data automatically downloaded and transmitted to the ground from the widebody plane's engines as part of a routing maintenance and monitoring programme, the newspaper reports that the investigators believe that the 777 could have flown on for another five hours.
In that time, the plane, which left Kuala Lumpur for Beijing and went off the radars one hour later, could have covered a distance of about 2,200 nautical miles, and could have reached as far as the border of Pakistan, say, or even the Arabian Sea, the WSJ reports.
The report further says that American counterterrorism officials are probing whether the pilot or anyone else on board the aircraft could have forced the plane to another destination - after switching off the aircraft's transponders to evade detection by radars.
So far, officials have neither confirmed nor ruled out the possibility of terrorism being behind the plane's disappearance.
However, the report adds that at one briefing, officials were informed that the investigation was looking at whether the plane was deliberately diverted with the purpose of using it later for other purposes - terrorism being the obvious motive.
The one sureshot way of finding out the plane's flight path is the engines' onboard monitoring system which regularly transmits data about the engine health and aircraft movement to Malaysian Airlines which, as part of its maintenance agreement shares it with engine manufacturer Rolls Royce for analysis.
Now investigators, it is said, are studying this data to find out the plane's flight path after the transponders were switched off. The plane, which was headed for China, was last visible on radars around the Gulf of Thailand.
In all, 56 ships were taking part in the search for the aircraft, , with Malaysia providing 27 of them. Plus, 30 aircraft were also on the lookout for the missing plane. However, the challenge, the WSJ quotes Lt David Levy, a spokesman for the US Navy's Seventh Fleet as saying, 'isn't so much coordination as the sheer size of the area involved'. The search grids are up to 20 miles by 120 miles, and ships and aircraft employ an exhaustive methodical pattern "like mowing your lawn" in their search for the plane, he said, the newspaper reports.
Image: Clouds hover outside the window of a Vietnam Air Force aircraft AN-26 during a mission to find the missing Malaysia Airlines flight MH370 ' Photograph: Kham/Reuters