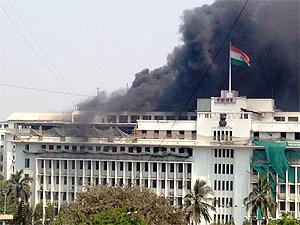 A fire on Saturday broke out at Mantralaya, the Maharashtra state secretariat complex, which was soon brought under control, fire brigade sources said. No one was injured in the fire, which broke out on the fourth floor of the building in south Mumbai, Chief Secretary J K Banthia said.
Five fire tenders were rushed to the spot to douse the blaze, they said. Last year in June, a devastating blaze had caused extensive damage to the building that houses offices of the chief minister, other key ministers and top officials. Renovation work was in progress on the fourth floor of the building.
The sources did not specify the cause, but a senior official told PTI that the fire was caused due to 'some chemicals' used in the renovation work.
"There was some smoke and fire, after which fire brigade was alerted. The whole thing was contained in a 10x10 sq feet area," the official said. Being a second Saturday, a state government holiday, there were only a handful people in the premises. Only some employees working on the State Budget and construction workers were present, the official said.