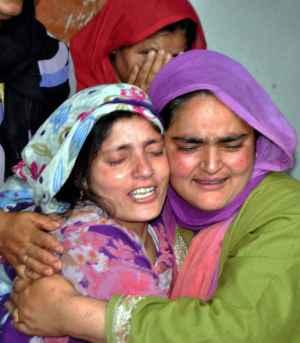 Militants shot at and killed a trooper of the Territorial Army in southern Kashmir's Kulgam district on Wednesday afternoon.
A senior police officer said militants fired at Gowhar Ahmad, a trooper of the Territorial Army, from a close range near Khudwani in Kulgam district.
"Gowhar succumbed before he could be shifted to hospital," said the officer.
The area was immediately surrounded by the security forces for searches.
No group has yet claimed responsibility for the killing of the TA jawan.
Image: Relatives of the slain trooper mourn in Kulgam on Wednesday
Photograph: PTI