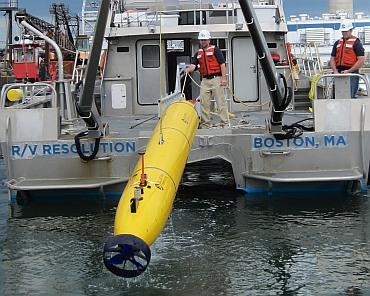 After its first attempt to find the missing MH370 plane yielded no results, the underwater drone being used to locate the wreckage was back in the waters on Wednesday scouring the depths of the Indian Ocean seabed.
Bluefin-21, a US Navy probe equipped with side-scan sonar was about four hours into its second dive mission, a source close to the operation told CNN.
"The data from Bluefin-21's first mission has been downloaded and analysed. No objects of interest were found," said Australia's Joint Agency Coordination Centre on the 40th day of the search for the plane.
The mini-submarine's mission was aborted yesterday after it encountered water deeper than its operating limits -- 4.5 km. "After completing around six hours of its mission, Bluefin-21 exceeded its operating depth limit of 4,500 metre and its built-in safety feature returned it to the surface," said the JACC on Tuesday.
US Navy Captain Mark Mathews of the Bluefin search team said the initial launch on Monday night took place 'in the very far corner of the area it's searching. So, they are just shifting the search box a little bit away from that deep water and proceeding with the search."
According to officials, the search for the missing plane could take up to two months, as the underwater vehicle takes six times longer to cover the same area as the towed pinger locater. "It is estimated that it will take the AUV anywhere from six weeks to two months to scan the entire search area," said Lt J G Daniel S Marciniak, a spokesman for the US Seventh Fleet, in a statement on Tuesday.
Meanwhile, the aerial and sea search for the plane continued with up to 11 military aircraft, three civil aircraft and 11 ships taking part in Wednesday's search for the plane.